Over the weekend, The Times published a classic 'Is it too late for me to retrain as a barrister?' letter. Agony aunt Marie O'Riordan reeled off the standard encouraging response, telling the letter's author that "maturity should give you the coping skills" to make the switch from their (unspecified) current career. Having seen various mature students ditch their careers to become lawyers, I couldn't disagree with O'Riordan more...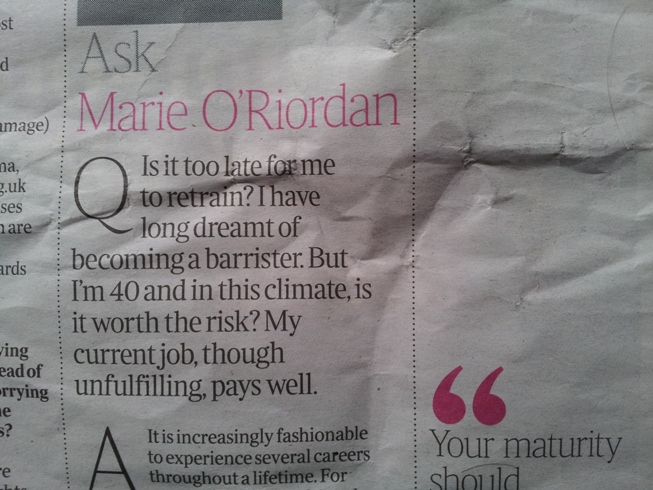 My view is that, yes, 40 is too late to retrain as a barrister. OK, so going back to school might be fun, but it'll cost you a fortune. Then, when you emerge from it weighed down with debt as you approach 45, you'll be faced with the challenge of getting a pupillage (something only about 1 in 5 Bar graduates manage to do). In the meantime, you'll work as an entry-level paralegal – if you're lucky. It's bad enough being the lowest of the low at a law firm in your mid-20s, let alone your mid-40s.
Being a pupil barrister will not be much better. Your pupil master will probably be younger than you. So will many of your chambers' colleagues, almost all of whom will be more senior than you. Workplace power dynamics dictate that some of these people will treat you badly. And unlike in your old job, where the status you acquired after years of graft protected you from jumped up little twerps, you'll find there's nothing you can do but sit back and take the shit as it comes your way.
Oh, and if you specialise in publicly-funded work, you'll be really poor – for ages, and perhaps forever.
Of course, after ten years or so, you'll have nudged up the hierarchy and the money will hopefully have improved. If you're good, you may even be considering putting in an application to become a QC. But you'll also be working at full pelt (being a barrister is a lot of work) just when you would have been looking forward to retirement if you'd stuck around in your old job. Having still not quite paid off those law school debts, any dreams of an Indian summer pursuing passions you never had time for will be over.
On the other hand, Sir Sydney Kentridge QC is 90 and the other day told the FT how he is still loving practising at the Bar – so there may be hope, after all.