Can You Fund Yourself Through A Law Degree Without Resorting To Life Modelling?
Legal Cheek's Lucy Pether draws on her experience as a law student at LSE to advise a wannabe lawyer's mum on how realistic it is for her son to attempt to fund himself through an LLB in London…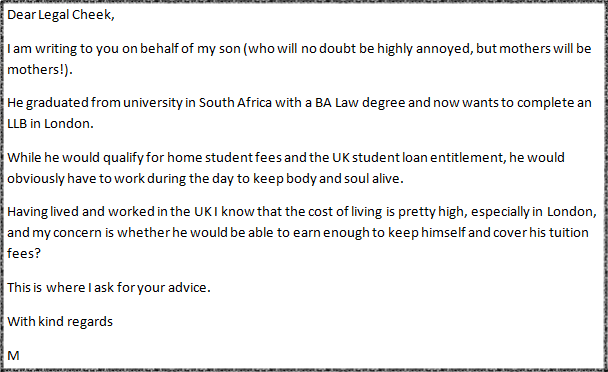 Dear M,
If your son finds a steady job with enough hours, he should just about be able to get by. However, the job hunt may take some time. Despite my years' worth of retail and bar experience, when I first arrived in London – and began relentlessly distributing CVs – I didn't get so much as a sniff of a job.
My theory is that employers in London don't need a law student behind their bar or till. It is such a diverse city that if you want someone to sell clothes for you, you'll have 20 passionate fashion students queuing up to do so. Want a waitress? Get someone who's penning a restaurant guide. Why pick a law student who's just doing it to make ends meet?
The majority of my friends had the same experience, before finally resorting to life modelling and selling the contents of their wardrobes and bookcases on eBay.
Still, some types of jobs are easier to secure than others for law students. Charity fundraising (aka 'Chugging') and call centre work are good bets. Tutoring is another possibility. Unfortunately, these jobs don't necessarily provide a steady income, and may be term time only. Meanwhile, the holy grail of the paralegal position is an ever more distant dream for undergraduates in the current job market.
Bear in mind that a student requires a budget of at least £1,000 a month to meet living costs in London. Even if you're eligible for the full whack from student finance, a termly student loan is very easy to burn through quickly, leaving you struggling to meet rent that averages around £150 a week.
That's why, short of a pre-arranged guarantee of long term work, I would suggest your son seriously errs on the side of caution before upping sticks to do his LLB in London.
Good luck,
Lucy