Wandering idly through Holborn the other day, I spotted this advert for the Environmental Law Foundation's (ELF) internship programme on City Law School's notice board.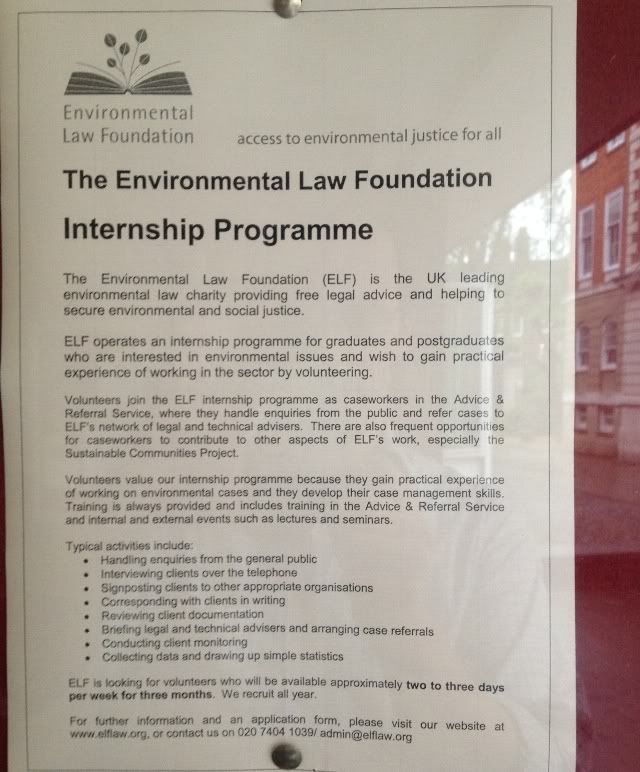 Nobody picked up the phone when I called the contact number on the ad, but its failure to mention remuneration, allied to the information I gathered online (see below and here), suggests that the three-month long internships being offered by ELF are unpaid.
When I spoke to Jo Martin, an employment lawyer at Simons Muirhead & Burton, for a Guardian piece a while back, she told me that the law on paying interns is:
"Where the role performed by the intern goes beyond genuine work-shadowing – as it clearly does at many law firms and legal charities – the law says they should be paid."
The list of "typical activities" for the ELF intern on the ad above includes "interviewing" and "corresponding with clients", "briefing legal and technical advisers and arranging case referrals", and "collecting data and drawing up simple statistics".
Surely this goes beyond "genuine work-shadowing"…
ELF – whose president is, fittingly enough, social mobility champion Prince Charles – is by no means the only legal charity that expects interns to work for free.
As Interns Anonymous has noted, internships at law reform charity Justice are unpaid. Nor does the Islington Law Centre pay its interns "voluntary paralegals".
Of course, these organisations tend to be pretty strapped for cash, making their failure to pay their interns less morally questionable than when flusher for-profit employers, like fashion houses or even newspapers, behave similarly.
But the consequences are the same, limiting these sexy-sounding, CV-bolstering positions to the wealthy.
The way of the world? Not if some wealthy City law firms stepped in to sponsor a few charity internships.