Recently a wave of university-wide "Spotted" pages have appeared on Facebook – enabling students to comment anonymously on fellow library and lecture hall users.
In the run-up to Valentine's Day, the posts on these pages have grown increasingly amorous. As you'd expect, with their natural beauty, brains and charm, law students have been generating plenty of interest…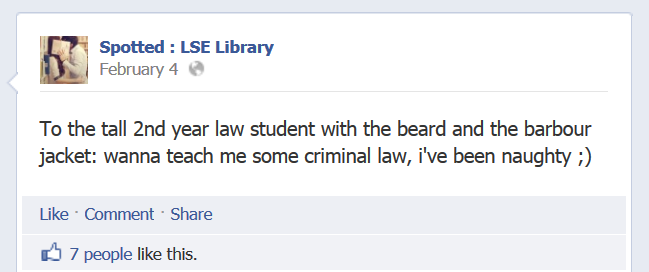 Meanwhile, up the road at UCL…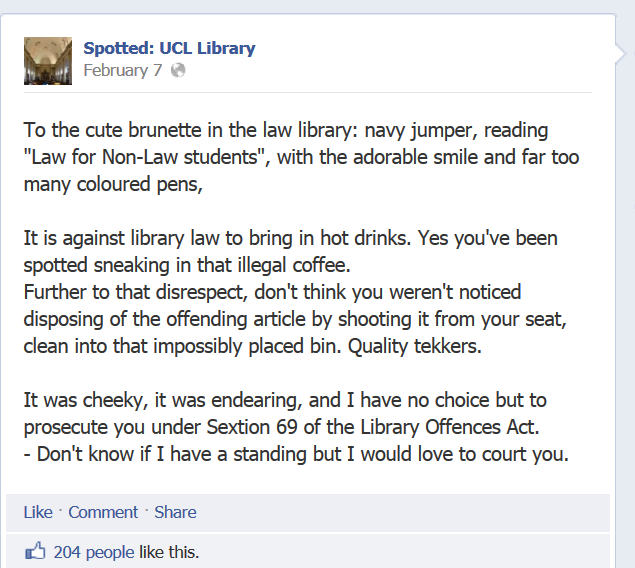 Loath to miss out on the fun, students at the College of Law and BPP Law School have launched their own "Spotted" pages (located here and here) – although, to date, entries appear rather thin on the ground. Perhaps the "Spotted" trend doesn't work so well in the rather more conservative environment of vocational legal education.

Want to spot your own lawyer without messing around with anonymous posts on Facebook? Then come along to our lawyer speed dating evening tonight at 6:30pm at The Fox pub between Moorgate and Old Street, central London.