The new series of The Apprentice began last night, giving the world its first glimpse of Dynamo Legal founder Alex Mills. Twitter promptly went wild – for the 22 year-old's impressively coiffed eyebrows, which quickly spawned their own Twitter account…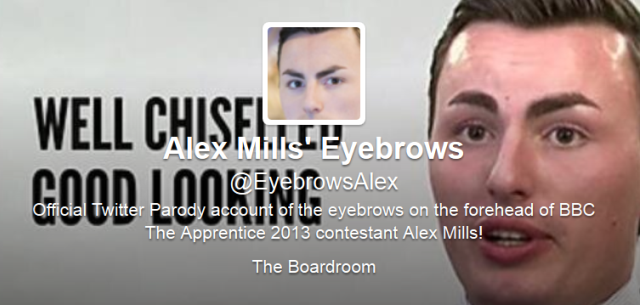 As excitement about Mills' eyebrows spread, the Spock gibes predictably began…
Alex Mills. From The Apprentice. He's related to Mr Spock, right? I wonder if he uses vulcanised rubbers. twitter.com/Mad_Al/status/…

— Al Nash (@Mad_Al) May 8, 2013
The Dynamo Legal founder's likeness to the "the villain from Thunderbirds" was also frequently commented upon.
No Alex Mills, you like like the villain from thunderbirds #theapprentice twitter.com/GeorgeGavin1/s…

— George Gavin (@GeorgeGavin1) May 7, 2013
Others reckoned Mills was in fact Amélie in disguise.
Alex Mills looks pleased to have been on the winning team tonight. #theapprentice twitter.com/iamdanieljones…

— Daniel Jones (@iamdanieljones) May 7, 2013
But surely the most accurate comparison was with Frank Sidebottom.
Does Alex Mills remind you of anyone? @bbcapprentice #apprentice twitter.com/esmefallows/st…

— EsmeΔlice Fallows (@esmefallows) May 7, 2013
Surely there must be easier ways to generate publicity for a new law firm than this…