A junior barrister has ended her career in dramatic style by placing her "Ede and Ripoff" wig and gown for sale on eBay — accompanying the ad with a wide-ranging attack on the reality of life at the Bar. The missive reserves special mention for her pupil master's "rampant alcoholism" and solicitors who pay "nothing".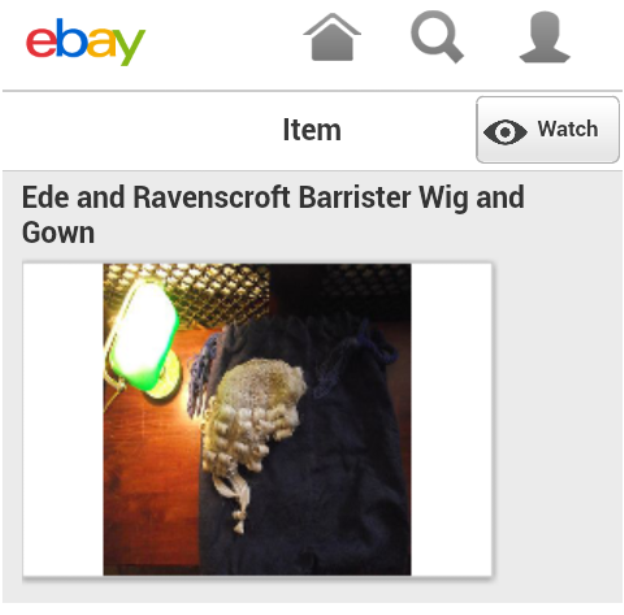 Warming to her theme, the barrister — whose location is given on eBay as Cardiff — goes on to propose this alternative to the traditional mini-pupillage…

The current bid for the wig and gown stands at £185, with the auction closing on Wednesday evening. All funds from the sale will apparently go towards "student debt-repayment and career-counselling".
Below: the missive in full
After 5 years hard slog and penury, I (i.e, Mastercard) purchased this wig, gown and collar for about £650 at Ede and Ripoff. Reflecting the sorry state of my legal career, the wig was hardly worn, although a few hairs have been pulled out of place (as pictured), no doubt in frustration at the sorry state of life at the junior bar. As is tradition, the bag was given to me by my pupil master upon successful completion of pupillage and with special thanks for my efforts to conceal his rampant alcoholism from the rest of chambers. It was indeed, as he put it, 'a remarkable achievement'. All funds from this sale to go towards student debt-repayment and career-counselling…

The sale includes an Ede and Ravenscroft horsehair barrister's wig (some hairs displaced, see photo, but certainly wearable), black gown (47 inches, excellent condition), one ladies' collar (wearable but with barely visible dis-colouring) and one blue robes bag. Items are not new but were bought within the last few years and have been barely used and hence smell clean and fresh (bag is older as belonged to my pupilmaster, but has recently been laundered).
I would be pleased to answer any questions you may have. These days I don't even charge for my time.
On 26-Jul-13 at 11:18:51 BST, seller added the following information:
In answer to some common questions:
1. The wig fits size 22″ (this is a circumference reading and puts it in the 'medium' range;
2. I am not aware of any differences between male and female wigs and gowns. There are differences in collars;
3. Unfortunately I am not able to advise on court etiquette but do vaguely recall that it may be an offence to imitate a barrister, and may also raise questions about your mental health. If you are not a real barrister and would like to try it out, the same can be achieved by running yourself about £35k into debt and arranging for someone to shout at you in public about cases you haven't read because you only got about half the papers about 10 minutes ago. Cancel your social life and be sure to give your phone number to someone you don't like, so that they can call you repeatedly throughout the day/evening and ask you where you are and why you are not in chambers. Pay them for this service, make sure they earn about three times what you do. To get the full effect, spend copious amounts of time on trains and buses with periodic crying into laptop.
4. Yes, it really was that bad.
5. No I do not recommend you pursue a career at the bar unless you absolutely love the work so much that you are prepared to do it for nothing, because that is how much some solicitors think it is okay to pay you.