The charmingly contrarian world of Grayling's lone solicitor supporter
Yesterday Yorkshire-based high street solicitor John Wilson wrote a piece for The Times in which he described legal aid as a "massive scam on the public purse" and backed the government's attempts to reform it. For those without a Times subscription, the essence of Wilson's piece is contained in this earlier Guardian article in which he is quoted arguing that lawyers should do legal aid work for free.
Such views have understandably riled Wilson's fellow professionals. One, the criminal barrister and former Tory MP Jerry Hayes, was moved to do some digging on Wilson and unearthed this Solicitors Disciplinary Tribunal ruling against him from 2010. It resulted in a £25,000 fine for, amongst other things, failing to act in clients' best interests.
But, to date, no one seems to have noticed the brilliant website of Wilson's firm, Wilsons Solicitors, which we were kindly alerted to yesterday via an anonymous tip-off. It can be politely described as charmingly contrarian…
Wilsons isn't so keen on the 'Legal 500'.

Ditto 'Investors in People'.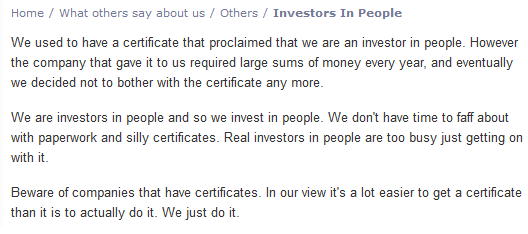 Unsurprisingly, the latest "buzz terms" don't impress Wilsons either.

Nor is the firm a fan of the Law Society's practice management standard, LEXCEL, which it refuses to sign up to.

And as for the Solicitors Regulation Authority (SRA), well, which one?

The firm's recruitment page is also well worth a read.
For those who'd like to hear more from Wilsons, and reflect on the firm's not-so-charming offer to "bow down" before them, why not follow them on Twitter?