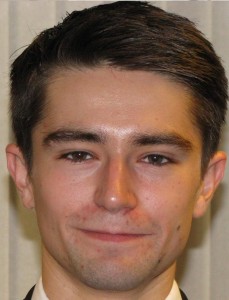 23 year-old Kaplan Law School Bar Professional Training Course (BPTC) graduate Gianni Sonvico has been missing since leaving a young barristers event at Middle Temple on Friday evening.
Could anyone with information about his whereabouts please call Islington CID on 07766 781 861, the police non-emergency line on 101 or Missing People on 116 000.
Gianni — who works at the Law Commission — is a white male, 5 feet 7 inches in height, with a slim build and dark brown hair. He was last seen wearing a dark suit, dark coat and lilac shirt. His disappearance is completely out of character.
Yesterday Gianni's family released this video appealing for information.
They have also issued this statement containing details about the last time Gianni was seen:
Gianni Sonvico — newly qualified barrister, 23, went missing on Friday, 25th October leaving Tower Hill Station at 22.14
Earlier in the night, he had left a work's do with the Law Commission at Middle Temple at 21.43 after telling friends that he was getting a bus home to Arsenal.
Police have confirmed with CCTV evidence that he tapped in on the route 15 bus at 22.07 and then again tapped in at Monument station at 22.09.
Known for being an avid Arsenal fan, suspicions were aroused by his family and housemates when they realised he had been in touch throughout the game. Increasing concern arose when he did not return home that following evening. Arsenal FC will be publicising Gianni's disappearance at half time during tomorrow's game against Chelsea.
To everybody who knows Gianni, he is a responsible, sensible and forward thinking individual. It must be reiterated that this behaviour is out of character, unusual and he has always had a strong home beacon.
It has since been confirmed that Gianni was last seen on CCTV footage on Lower Thames Street at approximately 22:30 on Friday evening, having tapped out with his Oyster card at Tower Hill tube station.
For updates follow the #FindGianni hashtag on Twitter.
Anyone with information about Gianni's whereabouts should call Islington CID on 07766 781 861, the police non-emergency line on 101 or Missing People on 116 000.