A journey below the line of the recent Daily Mail article about a possible strike by criminal barristers…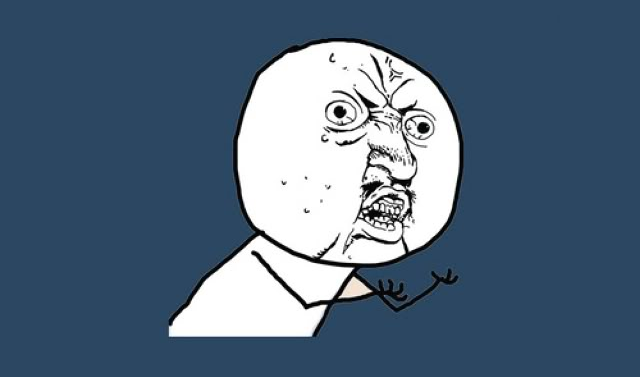 Unsurprisingly, the starting point is visceral hatred towards all lawyers.


This stems from a conviction that everyone who practises law is extremely rich…

…and that criminal law = personal injury = human rights = immigration = one big upper middle class conspiracy against Daily Mail readers.


Rumpole-inspired myths persist, exacerbating the problem.

As for modern day stereotypes…what better way to understand the average lawyer than by monitoring the behaviour of Cherie Blair?
For some Daily Mail commenters, it seems less about a hatred of barristers and more a love of wordplay.





If only they realised that criminal barristers are self-employed…

…and, with their low overheads, are actually really good value.

The good news is that criminal barristers are fighting back by engaging with Daily Mail commenters and explaining why they're wrong.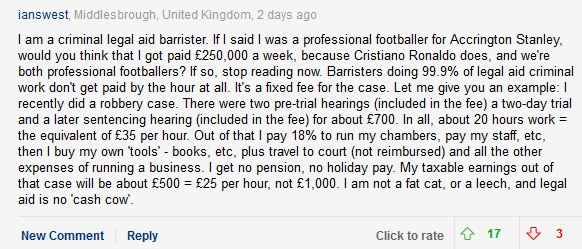 Interestingly, lawyers' comments often get more positive ratings than negative ones.

Meanwhile, in another encouraging sign that is often overlooked, the truly crazed anti-lawyer comments tend to be quite unpopular.

Which may explain the fairer tone of the Daily Mail above the line recently — as evidenced by the pleasant surprise that has been emitted at this very article.
http://t.co/KA3cFj1yIF amazingly not a bad piece #fight4legalaid

— Rachel Broughton (@MicroPP) November 16, 2013
Help save legal aid by joining the increasing number of lawyers fighting the Daily Mail comment trolls here.