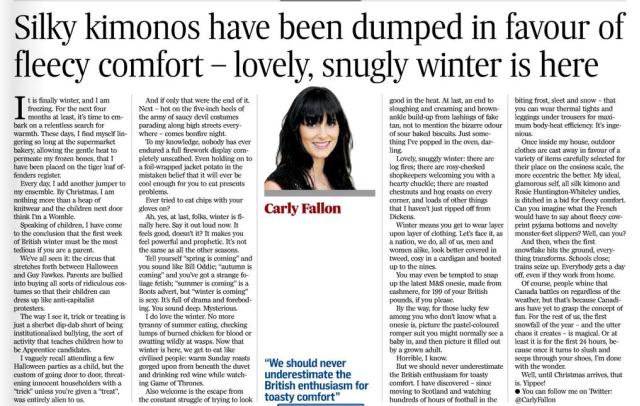 A solicitor with a sideline writing newspaper columns is at the centre of a plagiarism row after several journalists accused her of pinching their work…
Carly Fallon, who works at HBJ Gateley in Edinburgh, is accused of plagiarising lines from Guardian trio Stuart Heritage, Lucy Mangan and Rhiannon Lucy Cosslett in a column she writes for Aberdeen newspaper Press And Journal. Similarities have also been noted between Fallon's work and that of the Daily Mail's Jan Moir and the Spectator's Toby Young.
Since BuzzFeed drew attention to the alleged plagiarism on Friday, Fallon appears to have removed her LinkedIn profile. But a version remains in the Google cache (see below).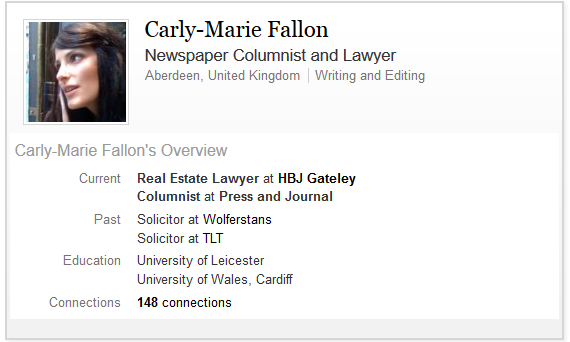 When contacted by Legal Cheek this morning, HBJ Gateley declined to comment. The firm has since indicated that qualified solicitor Fallon is working as a paralegal on a three day-a-week contract at its Edinburgh office.
The story unfolded on Friday when Fallon was confronted with the first plagiarism allegation on Twitter.
Wow. @CarlyFallon has ripped off my Winter is Coming article almost word for word in today's @pressjournal. Annoying. pic.twitter.com/6PPeWcxuiz

— Stuart Heritage (@stuheritage) November 8, 2013
More allegations soon followed after BuzzFeed picked up the story.
So that's me, Jan Moir, @toadmeister AND @VagendaMagazine. All in the same @CarlyFallon column. This is CRAZY http://t.co/PonepF0ix6

— Stuart Heritage (@stuheritage) November 8, 2013
BuzzFeed has identified the similarities between Fallon's piece and the one written by Guardian columnist Heritage here.
Local paper columnist plagiarises column from the Guardian http://t.co/ZncPwucZJF pic.twitter.com/UUjv7xL3BR

— BuzzFeed UK (@BuzzFeedUK) November 8, 2013
Below is an example of one of the most similar passages.
Heritage wrote:
"When the first snowflake hits the ground, everything transforms. Trains seize up. Schools close. Everybody gets a day off, even if they work from home. The naysayers might whine that snow never stops anything in Canada, but that's because they're genetically opposed to fun."
Fallon wrote:
"And then, when the first snowflake hits the ground, everything transforms. Schools close; trains seize up. Everybody gets a day off, even if they work from home. Of course, people whine that Canada battles on regardless of the weather, but that's because Canadians have to yet grasp the concept of fun."
Since the news broke, the Press And Journal has issued a statement saying that it would no longer be accepting columns from Fallon. Its editor, Damian Bates, said:
"Obviously plagiarism — in any form — is totally unacceptable. I take this matter very seriously indeed and have decided that we will no longer be accepting columns from freelance writer Carly Fallon. I'm deeply disappointed this situation has arisen and apologise for any upset this has caused anyone."
Meanwhile, surprise continues to be expressed on Twitter at the fact that Fallon is a solicitor…
Tweets about "@CarlyFallon solicitor"
!function(d,s,id){var js,fjs=d.getElementsByTagName(s)[0],p=/^http:/.test(d.location)?'http':'https';if(!d.getElementById(id)){js=d.createElement(s);js.id=id;js.src=p+"://platform.twitter.com/widgets.js";fjs.parentNode.insertBefore(js,fjs);}}(document,"script","twitter-wjs");