Top barristers at Matrix Chambers defend man sentenced to hang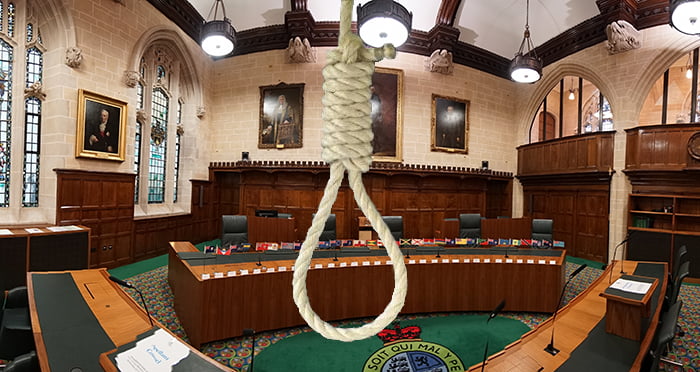 A trio of barristers at one of the country's top sets, Matrix Chambers, will try to convince a panel of five Supreme Court judges today that new evidence should be admitted in a death penalty case.
Tim Owen QC, Joanna Buckley and Jessica Jones will tell the justices that new evidence about their client's mental health casts doubt on the safety of his conviction. Jay Chandler was sentenced to hang in Trinidad and Tobago in 2011 for killing a 24-year-old man by stabbing him in the heart while they were both in prison, local news reports say. The defendant's first trial in 2009 resulted in a (rather unfortunately named) hung jury, and it took seven hours for the second jury to reach a guilty verdict.
Since then, Chandler has been examined by Nigel Eastman, a member of both Forensic Psychiatry Chambers and 33 Bedford Row. Eastman believes that Chandler, the appellant in the case, suffers from episodes of psychosis — evidence Chandler wants to be admitted on appeal. Tom Poole, of 3 Hare Court, will be representing the respondent (the state).
This really is a matter of life or death on the shoulders of the justices who are hearing the case, them doing so in their capacity as Judicial Committee of the Privy Council (JCPC) members. The United Nations Commission on Human Rights has adopted several resolutions urging states not to execute any person "suffering from any form of mental disorder"; the admittance of evidence of psychosis could well throw Chandler a lifeline.
But that's not the only issue the justices — Lords Carnwath, Sumption, Kerr, Reed and Lloyd-Jones — will be considering this morning. They'll also hear submissions on whether the trial judge erred in his directions by admitting evidence of a previous incident, in which Chandler stabbed a fellow inmate in the neck. Delay between sentence and execution is also an issue, we are told by Saul Lehrfreund, a solicitor at The Death Penalty Project which is representing Chandler in the case. He says:
"In Chandler's case, the fact that he has been on death row for more than five years means that his execution would now be unlawful, thanks to a decision of the JCPC in one of our early cases (Pratt and Morgan v Jamaica)."
The JCPC hears cases from a number of Commonwealth countries, plus UK overseas territories, crown dependencies and military sovereign base areas. These countries include the Bahamas, Bermuda, Jamaica, Saint Lucia and, as is the case today, Trinidad and Tobago. A number of these countries still use capital punishment, and the JCPC typically hears appeals on this two to three times a year.
Though it's not hard to find information on the JCPC's death penalty jurisdiction, what's harder to grapple with is its moral implication. Capital cases being heard in Parliament Square doesn't quite sit right, with one Legal Cheek commenter going as far as to describe the practice as "our judiciary's dirty little secret".
However, others think the JCPC's jurisdiction here is crucial. Lehrfreund tells Legal Cheek:
"Over the last 20 years the Privy Council has played an active role in the reform of death penalty laws — using its power to impose strict restrictions on the use of the death penalty and strike down practices that are in violation of constitutional rights. While not removing the colonial legacy of the death penalty the restrictions have had a profound effect, saving many prisoners from execution."