Henry Brooke worked with Lord Denning and sat on the famous conjoined twins case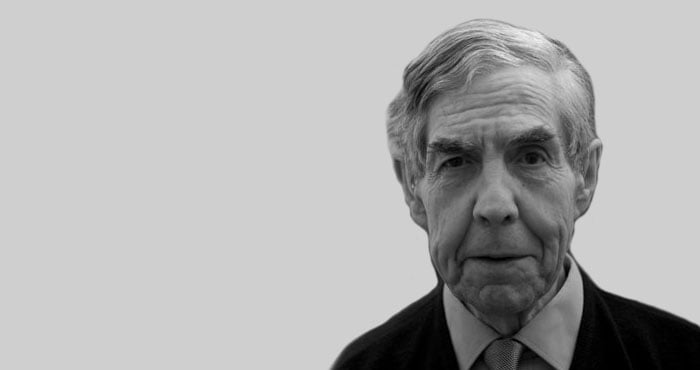 A former judge who dedicated his retirement to blogging about legal affairs and challenging the government's measly legal aid budget has sadly died, aged 81.
Sir Henry Brooke was a well-respected lawyer who was appointed to the judiciary from his barrister practice at Fountain Court Chambers. He served as a High Court judge from 1988 before being promoted to the appeal court in 1996.
Before retiring from the judiciary in 2006, Brooke sat on a conjoined twins case which will likely be instantly recognisable to LLB students studying criminal law, family law or medical law modules. The case — full name Re A (Children) (Conjoined Twins: Surgical Separation) — sits alongside fellow law school favourites Donoghue v Stevenson, Carlill v Carbolic Smoke Ball and High Trees as one of the Incorporated Council of Law Reporting's top cases of the past 150 years.
On his blog, which Brooke began during his retirement, the ex-Court of Appeal judge candidly revealed that he struggled to grapple with the complex legal issues unearthed by the case, and that the hearing coincided with a difficult period of his personal life — his mother's funeral.
There were some lighter moments, though. He said:
"One of the happiest features of the case was the warmth of the relationship between the children's parents and the clinical team at the hospital despite their strongly conflicting views on the desirability and propriety of an operation."
Other interesting snippets from Brooke's blog include a tell-all account of what it was really like to work with law student-favourite Lord Denning. You can breathe a sigh of relief; Brooke thought he was a great guy:
"In my eyes, for all his shortcomings in old age, [Denning] was the most inspirational figure I ever had dealings with."
Aside from reflecting on his distinguished career, Brooke spent his later years working to reverse the government's swingeing cuts to legal aid (this despite his brother and parents being Conservative Party politicians). Brooke sat on the Bach Commission, headed by Labour peer Lord Bach, which lambasted the cuts for leaving "huge numbers of people" unable to afford private legal advice but also ineligible for legal aid. The commission recommended the codification of the right to justice into statute, and the inception of a Justice Commission to keep tabs on the protection of this legal right.
The LASPO Review: (1) My recent talk about the Bach Commission's report on the Right… https://t.co/QNCWiM48d9 pic.twitter.com/4pwp2b2BTp

— Henry Brooke (@HenryBrooke1) November 3, 2017
Brooke — who was the judge in charge of the modernisation of the courts from 2001 to 2004 — had a penchant not just for blogging but for tweeting, too. In his later years, he entertained his close-to 10,000 followers with his justice musings. It was also there that he revealed he was due to undergo cardiac surgery on Monday (yesterday):
My tweets will be stilled for a while: cardiac valve surgery on 29 Jan. A "Like" will be interpreted as goodwill, or as an imaginary candle.

— Henry Brooke (@HenryBrooke1) January 26, 2018
He later thanked those that had wished him well:
1/2 I am very touched by the 3500 gestures of goodwill before my cardiac valve surgery tomorrow, plus 170 retweets or messages. Thank u all

— Henry Brooke (@HenryBrooke1) January 28, 2018
Very sadly, his son, tweeting as @moonbroth, announced today that Brooke had not survived. The post read:
"Barts staff have been wonderful, and did everything they possibly could, but the surgeon says my Dad's heart was just too big: this won't come as a surprise to anybody who knew him. Rest in peace, Dad."
Social media has been set alight this afternoon by tributes to Brooke.
To give you just a flavour of these, lawyer and writer David Allen Green described Brooke as a "legal hero", while barrister Harriet Johnson said Brooke "was the very best that law and humanity had to offer". PJ Kirby QC thanked Brooke for his Twitter contributions, which he said "were full of intelligence, wisdom and justice". Charity the Legal Action Group thinks Brooke is an "access to justice hero", while pro bono organisation LawWorks said:
Sir Henry was a giant in advocating the cause of access to justice, and also of pro bono; RIP he will be missed

— LawWorks (@Law_Works) January 30, 2018
Other kind words included:
This is terribly sad news. Henry Brooke made a lasting contribution to English law as a practitioner and judge and remained dedicated in promoting access to justice well into retirement. I hope https://t.co/HbBiGUVZX1 will stay up as part of his legacy. https://t.co/pkN30BHptI

— Daniel Sternberg (@BarristerDan) January 30, 2018
Oh – that is so sad for you & your family & for all of us who knew & admired him. I worked with @HenryBrooke1 during my civil service career; he was always an utter delight, even when he was in total disagreement with Govt policy. He'll me much missed

— Jane Furniss (@MaryjaneFurniss) January 30, 2018
I'm immensely sorry, his judgments and blog must live on. My condolences.

— Max Schofield (@maxschofield) January 30, 2018
I am so upset to hear that news. My deepest condolences. He will be missed by all. A wonderful man with such a great track record of service to Justice and his country. My thoughts though are with you his family and friends.Thanks for telling us. Farewell Sir Henry and thank you

— Robin Murray (@robinthemint) January 30, 2018
Among his many achievements, Sir Henry Brooke was a key figure in establishing @BAILII, a resource which is now indispensable for lawyers and legal journalists alike.

— John Hyde (@JohnHyde1982) January 30, 2018