Embrace your inner Branson and Zuckerberg, barristers told
Middle Temple wants members to come across less pompous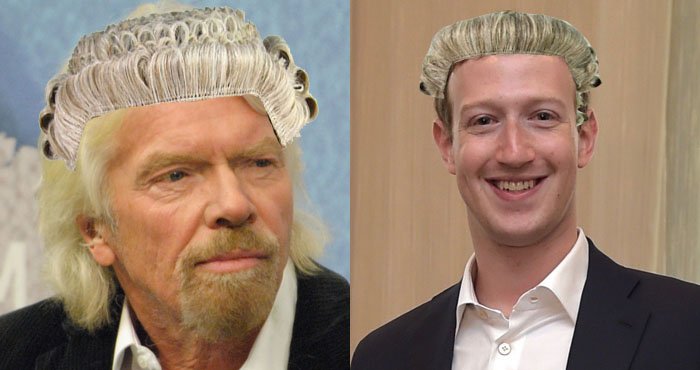 Barristers are being asked to embrace the mindset of some of the world's leading entrepreneurs as part of a training initiative aimed at improving their commercial savviness.
Middle Temple — one of the four historic Inns of Court — held an unusual training session last week in which barristers were encouraged to channel their inner Richard Bransons and Mark Zuckerbergs. The coaching evening was moderated by barrister turned comedian Clive Anderson, and led by corporate trainer Gavin Presman and self-styled "legal futurist" Chrissie Lightfoot. She told Legal Cheek:
"It was a real honour yet terrifying to share the stage with Clive Anderson. It's a tall order (for a short woman) to follow in the footsteps of a comedian and intellectual giant… I'm hopeful that barristers and the legal profession at large will turn a corner in ROARing (reaching out and relating) empathetically with consumers and businesses alike in 2018 and beyond. The signs are already present."
The initiative was part of the Inn's Survive and Thrive Programme, and was aimed at encouraging barristers to think of themselves as "legal entrepreneurs" who know how to behave as an entrepreneur. According to the event listing, barristers and speakers explored: the importance of body language, how to work a room and how to win business in the legal industry.
Adrienne Page QC, a barrister at 5RB and a Middle Temple bencher, helped organise the training. Speaking to Legal Cheek, she said:
"Middle Temple's Survive and Thrive series is one of the most popular professional development and support programmes we provide for our members. We work closely with the Bar Council and the other Inns to look after the well-being of our students and practitioners."
The anti-pompus pointers come just months after the Bar Standards Board (BSB) revealed a number of radical new training proposals that could, among other things, spell the end of compulsory Inns of Court dining sessions. Under the current rules wannabe barrister must complete 12 qualifying sessions, made up of formal dinners, debate nights, lectures and workshops.