Student claims staff member stopped her from praying then 'forcibly pushed' her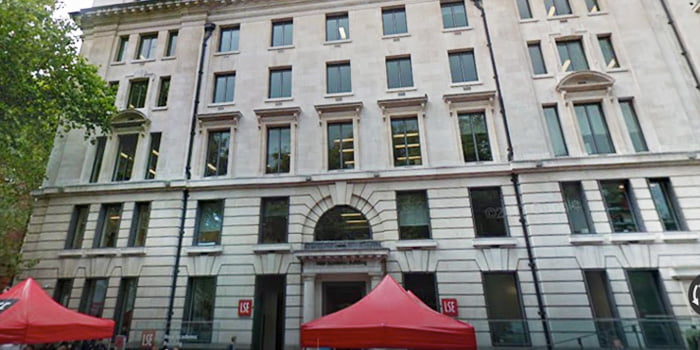 The London School of Economics is facing "very serious allegations" after footage emerged on Facebook of an altercation between a security guard and a first-year law student.
The 40-second clip was purportedly filmed after the LSE student, Banu Hammad, was stopped from praying outside of her property law lecture. The footage ends, Hammad claims, with her being "forcibly pushed against a wall". A spokesperson for LSE has told Legal Cheek it has removed the relevant staff member from duties and is investigating.
Since the video was posted by a law student friend of Hammad's online, Hammad has written an open letter about the incident, which has been seen by Legal Cheek.
"In the five-minute interval of my two-hour Property I lecture in the Hong Kong Theatre, Clement House, I endeavoured to utilise this time to fulfil my obligatory Islamic prayers," she explains in the letter. "Five minutes would not allow me to travel to the Students' Union prayer room at the Faith Centre and return to my lecture in time. Thus, I found a quiet corner in which to pray, in the atrium, on the periphery of the theatre."
In the midst of prayer, Hammad continues:
"I heard the voice of a woman shouting abuse at me for praying in a public space, telling me that I should take my prayers elsewhere, namely, to the prayer room. She repeatedly and aggressively demanded that I break my prayer, but I completed it in adherence to my faith and values."
After finishing her prayers, Hammad claims she approached the woman, a security guard, to find out her details. This is where the video, recorded by Hammad, begins.
The video seems to show the security officer in question yelling at Hammad "we have a prayer room, you go there", while the first year tells the irate woman she's unable to do so because she only has a short break between lectures. When Hammad asks the security guard for her staff number, the video becomes shaky before cutting out seconds later. Hammad claims she "was forcibly pushed against a wall and my phone was confiscated without consent".
A spokesperson for LSE said:
"These are very serious allegations which we are investigating. The relevant member of staff has been removed from duties pending the investigation."
Comments on this article are now closed.