She's now a paralegal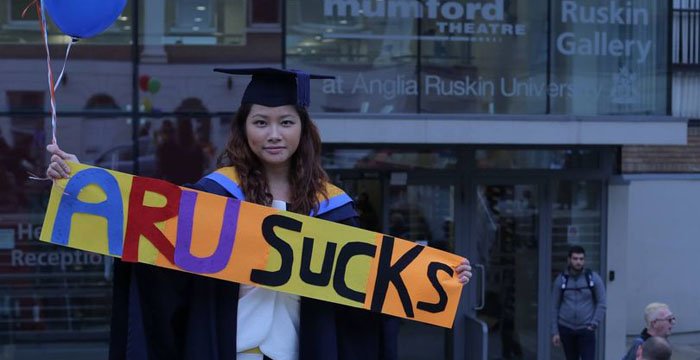 An Anglia Ruskin graduate suing her university for a host of "injustices" she says she experienced on her business course went on to study law to fight the case, Legal Cheek can reveal. The university is "robustly defending" the legal action.
Pok Wong, who also goes by Fiona, began studying international business at the Cambridge-based university in 2011, graduating with a first in 2013. Since then, she's launched legal action against her university on multiple grounds detailed below, yet felt "frustrated at [her] inability to bring the case properly", she tells us. Wong adds:
"What I experienced was so awful but I didn't have the skills, and I hated myself for not having the skills."
Though she had no interest in studying law nor becoming a lawyer when she enrolled on her undergraduate degree, Wong cites the "injustice" she experienced at university as her "motivation" to study law. Legal Cheek understands Wong is hoping to be awarded in excess of £65,000.
Wong studied both the Graduate Diploma in Law (GDL) and the Legal Practice Course (LPC) at BPP University in prep for the case, which she "really liked". She also studied a paralegal course online in between.
Contract law is one topic covered on these courses, and it's breach of contract Wong is suing her university for (and other grounds). Court papers contain a long list of alleged breaches, including that on one module the lecturer:
"Routinely arrived late by 15-20 minutes and finished early; during scheduled teaching time sent students to the library; spent much of the remaining teaching time merely going through multiple choice questions rather than actually reaching the subject matter; thus [Wong] estimates that only 20 or 30% of the scheduled teaching time was actually spent teaching."
Also, she claims the university made false statements about the course, court papers stating: "[The university] was not a renowned centre of excellence for business and management", nor did its careers advice department "have strong links with employers or access to a wide range of graduate opportunities".
Despite reports to the contrary, Wong stresses to Legal Cheek she is not suing the university because she couldn't find a job. "I never said the university had a duty to find me a job", she says and, in fact, she has a job: as a paralegal.
Her third ground, perhaps the most interesting, is false imprisonment.
Court papers, prepared by Stephen Innes of 4 New Square, state Wong began a protest about Anglia Ruskin's "poor standards" during her graduation ceremony, and: "The defendant's security staff, for who the defendant was and is vicariously liable, escorted the claimant from the hall and placed her in a locked room." She says she cannot remember exactly how long she was left in the room, but that she was released only after the ceremony had finished.
Anglia Ruskin's statement, in full, reads:
"We are well aware of the claims made by this former student, who was recruited in 2010 and awarded in 2013, and we are robustly defending the current litigation. Her complaints have been through the full Office of the Independent Adjudicator process. She then made a complaint to the Information Commissioner's Office which was rejected after a thorough investigation. Subsequently she has launched legal action against us and has been required to pay our costs at an earlier hearing."
It finishes:
"As this case is before the court we will not be saying anything further at this stage."
Wong hopes to secure a training contract in the future, though is willing to pursue other career paths. But: "One thing I am not flexible on is that I need a judgment on this case. I must have a full stop."
A hearing date has not been set, and Wong is currently waiting for Anglia Ruskin to put forward its defence.