But confesses comical career change isn't 'financially stable'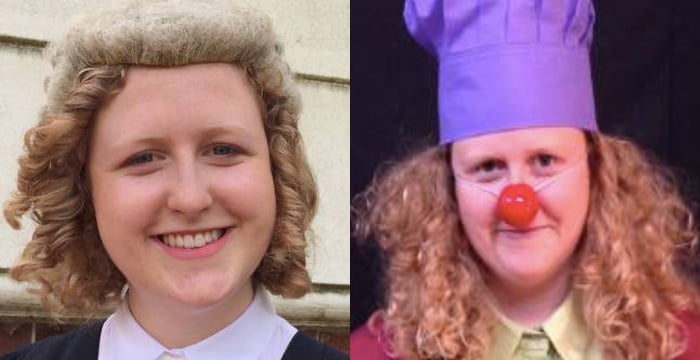 A junior solicitor has quit the legal rat race to pursue her dream of becoming a professional clown.
Phoebe Mason, 26, worked as a solicitor at New Zealand law firm Atkins Holm Majurey for more than two years when the red nose and big shoes came calling. In 2016, Mason — who studied law and arts at the University of Auckland — was offered a four-month unpaid sabbatical to attend a theatre school in Melbourne, Australia.
She also began acting at an improvised theatre company, ushering at local arts centre, and temping in an office. She has since gone on to create her first solo show, which debuts later this month.
Mason, who describes herself as a "freelance actor and writer" on her LinkedIn profile, also applied to become a 'clown doctor'. This involves working in partnership with medical professionals to, among other things, help lift children's spirits during painful procedures and medical emergencies. Following a succesful audition, Mason spent time 'clownterning' (essentially a vac scheme for clowns) alongside veteran clowns in local hospitals.
So what promoted the career switch? Speaking to New Zealand news site Stuff, Mason explained her lightbulb moment came when she asked: "What could life be like" away from law?
Having ditched her horsehair wig (and replaced it with an even sillier one), Mason says her clowning pursuits aren't overly "financially stable". But, she has more control over her time, the report says. And what do her family make of Mason's new occupation? She continues:
"My parents have been getting some good mileage out of the 'lawyer into clown' story."
Mason isn't the first legal professional to venture down a very different career path.
Legal Cheek has reported on lawyers becoming professional cake makers and full-time personal trainers. One lawyer even ditched the profession to do 'The Nicest Job in Britain'.