Exclusive: Henry Hendron tells Legal Cheek he intends to challenge sanction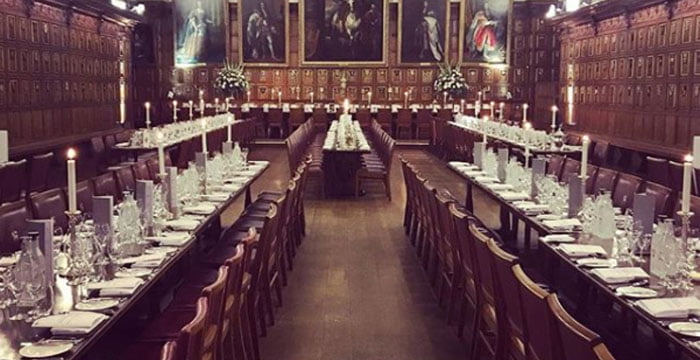 A junior barrister who was suspended from the profession for three years following a conviction for drug offences has once again been penalised by the regulator, this time for posting on social media that he was having lunch at Middle Temple Hall.
In January 2015, Henry Hendron — formerly of Strand Chambers, London — was arrested after his boyfriend, Miguel Jimenez, was found dead with drugs in his system. The rookie barrister eventually pleaded guilty in March 2016 to two counts relating to possession of a controlled drug with intent to supply.
Hendron was handed a community order by the criminal courts with 18 months supervision and 140 hours unpaid work. In April last year, the Bar Standards Board (BSB) opted not to strike Hendron off, instead suspending him from practice for three years.
Now, almost a year on, we can reveal the BSB has fined Hendron for posting on Facebook that he was having lunch at Middle Temple Hall in London.
The BSB's Professional Conduct Commitee (PCC) considered two allegations of misconduct, according to documents seen by Legal Cheek. Firstly, that Hendron attended Middle Temple allegedly in breach of his original suspension order. Secondly, he posted on Facebook that he was in breach his suspension order, and therefore demonstrated "a disregard for the authority and force of the order and [the] regulator".
The PCC concluded, on the balance of probabilities, Hendron's conduct in respect of his social media post was capable of diminishing public trust and confidence in the profession and therefore constituted a breach of BSB rules. He was fined £250.
However, the PCC did note there was insufficient evidence to find that Hendron's attendance at Middle Temple in itself constituted a breach of BSB rules. It acknowledged Hendron, as a member of the public, was entitled to attend the Inn as a guest of a current member.
Unfortunately, it seems the suspended barrister's run-in with the regulator isn't yet done and dusted.
Hendron has told Legal Cheek he is preparing judicial review proceedings against the BSB after being told he'd have to cough up £100 in order to appeal the PCC's decision. He told us:
"From the start of my career at the bar I have campaigned for those who would otherwise be left behind. I am now in that seat myself. I will fight the BSB until justice is done. I intend to bring JR proceedings next week. I am only sad that my own regulator is so stuck in an era of the past, that does not belong in the present, where only those with gold in their pocket can speak; that is not a regime I wish to be part of. The fight begins."
A spokesperson for the BSB told Legal Cheek:
"The BSB does not comment as to whether or not individual barristers are the subject of a complaint or a disciplinary investigation. If a complaint is received, or if information about potential misconduct by a barrister comes to our attention, it is dealt with in accordance with the procedures set out in detail on our website."
Hendron — who was called to the bar in 2006 — has represented a number of high-profile clients including former The Apprentice winner Stella English, the Earl of Cardigan, and Conservative politician Nadine Dorries. In 2014, Hendron was fined £2,000 by the BSB after blogging during the trial of former deputy speaker of the House of Commons Nigel Evans MP.
Comments on this article are now closed.