PR headache for Blake Morgan
A top corporate law firm has been caught in the middle of a football-based social media row after a legal letter it sent on behalf of a client was posted on Twitter.
Yesterday afternoon, Dulwich Hamlet FC received a letter from national law firm Blake Morgan, on behalf of its client Greendales IP. The letter says that "Dulwich Hamlet Football Club", "The Hamlet" and "DHFC" had been registered as trademarks in October 2017. Continuing, the legal letter (in full below) warns that those trademarks should "no longer be used on any printed literature and any online activity including websites and twitter".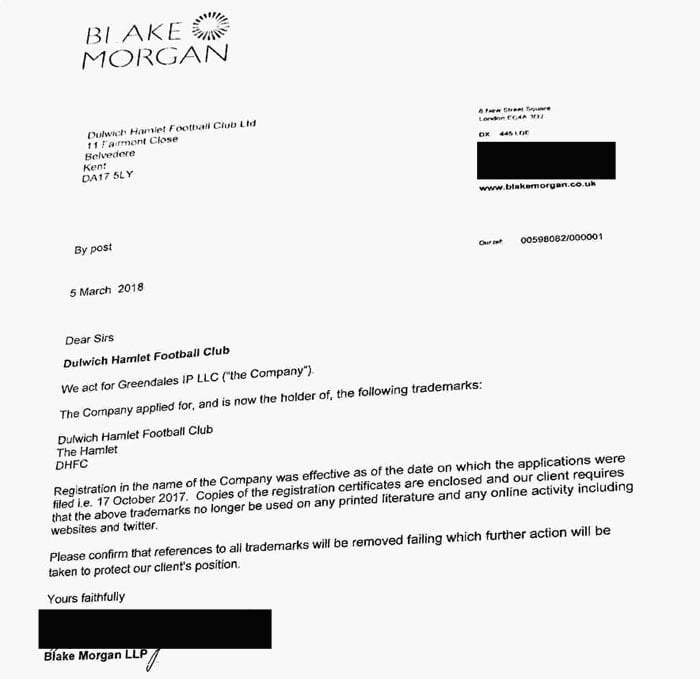 Greendales IP is understood to be a subsidiary of Meadow Residential, a property investment firm which owns Dulwich Hamlet FC's ground, Champion Hill (pictured). The letter comes just 24 hours after Meadow Residential informed the football club that their licence to play at the stadium had been revoked. It's understood this concerns an unanticipated bill for back rent of £121,000.
Appearing unhappy with the legal move, Dulwich Hamlet FC — which plays its football in the Bostik Premier Division — tweeted the letter in full from its official account, and in turn created a major public relations headache for Blake Morgan.
One Twitter-goer compared the firm to a child:
Isn't this identity theft? Outrageous and childish from Blake Morgan

— SCOTT TWEED (@ScottTweed) March 6, 2018
While another appeared to question Blake Morgan's decision to send the letter in the first place:
Disgusting behaviour. You know some times Blake Morgan you should actually think about what your doing.

— Jay Maguire (@JasonMaguire1) March 7, 2018
The online criticism continued:
Oh Blake Morgan this is not a good look… While this may have been technically correct you should have advised your client against this… https://t.co/3S7DGR0pB7

— James von Simson (@JvonSimson) March 6, 2018
Could you temporarily rename yourselves Blake Morgan Sucks FC?

— Nick Pead (@Nick_Pead_WineO) March 6, 2018
Dulwich Hamlet FC being made homeless by Meadow and Blake Morgan who are Souless.

— Don Cross (@Stoney_Ground) March 7, 2018
The letter has so far racked up over 1,800 retweets and 1,300 likes including a re-share from former footballer turned respected TV presenter Gary Lineker.
Jeez. This is just wrong. https://t.co/TaC5HMVyM2

— Gary Lineker (@GaryLineker) March 6, 2018
A spokesperson for Blake Morgan said:
"We were asked to provide advice on trade mark law as part of our client's complex discussions about land at Champion Hill. We're aware commercial conversations between Meadow Partners and Dulwich Hamlet FC are ongoing, but are not party to these and cannot comment further."