Smart Solicitors' not so smart recruitment tactics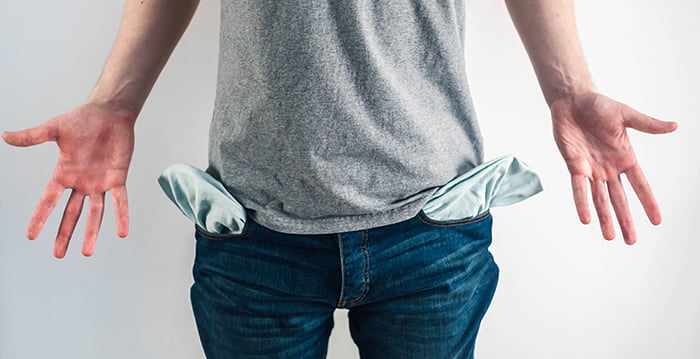 A high street law firm has attempted to fill its paralegal vacancies with unpaid law grads. Smart Solicitors Limited has since tweaked the online advert and removed an unpaid option for wannabe lawyers who lack on-the-job experience.
The firm, which covers specialisms including immigration, personal injury and employment law, is looking to recruit five paralegals in its Birmingham office, according to the online ad. The listing, posted earlier this month on the job search engine Indeed, states the "ideal candidate" will be a law graduate with a minimum of one-year full time working experience in a legal aid contracted firm.
However, Legal Cheek can reveal an old version of the advert (screenshotted below) stated that if a candidate lacked the required experience for the role then the firm would happily provide "3 months unpaid experience which may be extended to a further 3 months subject to performance." This part of the advert has now been removed. Smart Solicitors declined to comment.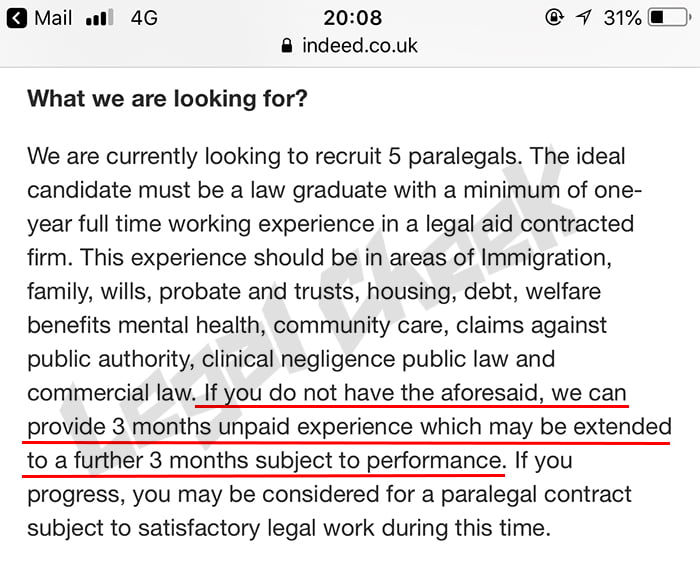 Unfortunately, it appears Smart Solicitors has forgotten to amend a similar ad on its own website.
Like before, the job listing (again screenshotted below) states that the firm can offer "3 months voluntary experience which may be extended to a further 3 months subject to performance." All three versions of the ad go on to say that successful candidates will be considered for future training contracts within the firm.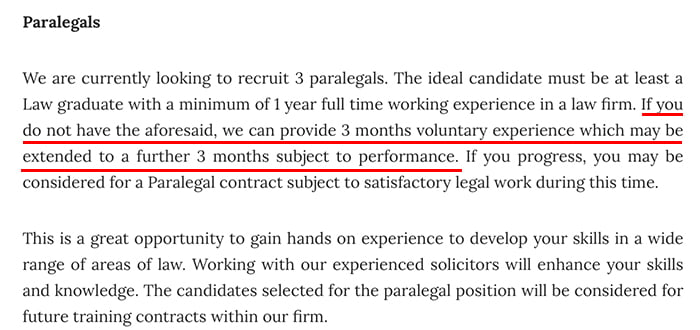 This isn't the first time a law firm has tried to hire unpaid paralegals.
In 2014, London legal aid giant Duncan Lewis was seeking 20 Legal Practice Course (LPC) and Bar Professional Training Course (BPTC) grads to work free of charge for four weeks as "volunteer" paralegals. When we got in touch, the firm swiftly pulled the ad from its website and other job pages. Meanwhile, Canary Wharf-based outfit Kawa Guimaraes & Associates went one step further and attempted to charge students for work experience.