Internet wrong'un uses image of 2 Bedford Row's Michael Wolkind QC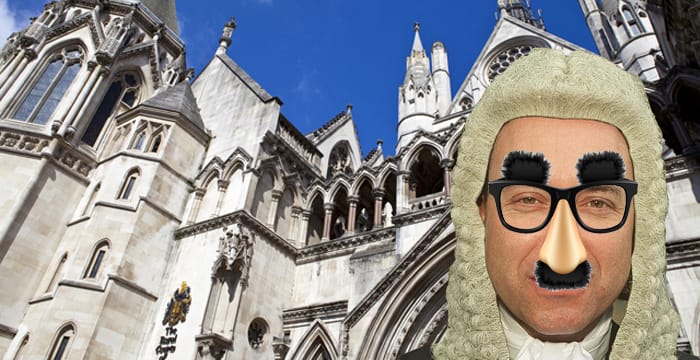 A would-be Twitter fraudster has used an image of one of the country's most recognisable criminal silks as part of an ambitious attempt to get members of the public to part with their hard-earned cash.
At first glance you'd be forgiven for thinking that the @EsqRichards Twitter account (bottom left) was the real deal: leather-bound law books, unassuming name and a wigged barrister profile pic all help create a veneer of legitimacy.
Then, upon closer inspection, you'll realise "David Richards (ESQ)" bears an uncanny resemblance to 2 Bedford Row's Michael Wolkind QC and that the account is clearly a fake — a fake that is apparently attempting to scam people. Profile image aside, Legal Cheek would like to stress that Wolkind is in no way connected to the bogus account.

One of those targeted was The Guardian's media editor Jim Waterson, who received a direct message from the dodgy account yesterday afternoon.
Waterson subsequently tweeted a screenshot of the message, in which the scammer claims to be seeking a business partner to "assist in the securing of a Late Client [sic] funds ($15,000,000.00 USD). The message goes on to say that the deal will be of "great mutual benefit" and that the recipient should email them for further details.
@2BedfordRow This seems like a very interesting opportunity in my direct messages from Michael Wolkind QC. pic.twitter.com/KZw3s2Sz92

— Jim Waterson (@jimwaterson) September 27, 2018
In a statement to Legal Cheek, Wolkind said:
"Thanks for informing me. I recognise the handsome face but not the account. I don't use Twitter. I hope the scammer is caught and punished way beyond the powers of the law."
Perhaps it was Wolkind's high-profile (and rather eye-catching) online presence that made fraudsters go for his image, as opposed to another member of the bar's.
Last year, Wolkind was reprimanded and hit with a £1,000 fine for statements made on his website. Topcriminalqc.co.uk contained a host of claims which the Bar Standards Board (BSB) deemed "likely to diminish the trust and confidence which the public placed in him". Highlights included: "Michael Wolkind QC was the UK's top criminal barrister" and a client testimonial expressing his view that "Michael Wolkind QC could get Stevie Wonder a driving licence".
This, however, isn't the first time Wolkind has been the victim of a fake online profile.
Legal Cheek reported in 2015 that someone had created a "premium" LinkedIn account using a real image of the 2 Bedford Row silk along with what appeared to be some genuine information. However, other parts of the profile clearly revealed it was an online prank, such as the inclusion of his "2nd in Primary School Egg and Spoon Race" under the page's awards and honours section.