Multi-million pound redevelopment nears completion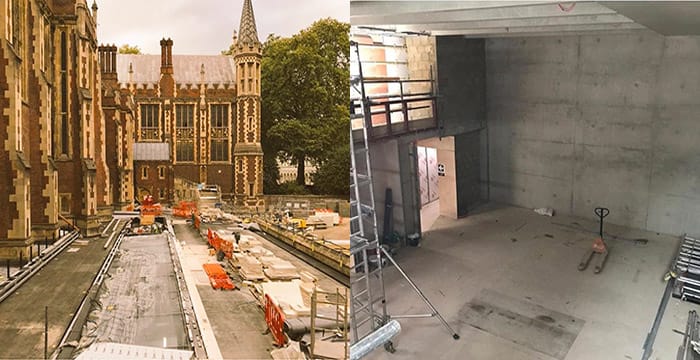 Lincoln's Inn has released a set of images showing how work is progressing on its new state of the art mega-bunker.
The photographs, published on the Inn's official Instagram and Twitter pages, reveal the subterranean education suite being built underneath the Inn's historic medieval hall is nearing completion.
Coming into the final straight of the development works here at the Inn. pic.twitter.com/i30rsGTRAS

— The Honourable Society of Lincoln's Inn (@lincolnsinn) September 24, 2018
Architects' drawings, acquired by Legal Cheek in 2015, show the two-storey bunker, when complete, will house ten advocacy training rooms, a 150-plus seat lecture theatre and numerous break-out spaces.
At the time, we suggested that the bunker was potentially being constructed with a view to launching a new Inns of Court Bar Professional Training Course (BPTC). Not so, said a spokesperson for the inn, who maintained that the "intended use of the proposed building is not as a law school but a state of the art space to provide advocacy training to our student, pupil and barrister members."
But rumours of an inn-run BPTC offering continue. Last year, we exclusively revealed the Inns of Court College of Advocacy (ICCA) — an education and training organisation made up of judges, lawyers and academics — was "seriously considering" delivering a new version of the course.