Gabe MacConaill committed suicide in the carpark of the firm's Los Angeles office last month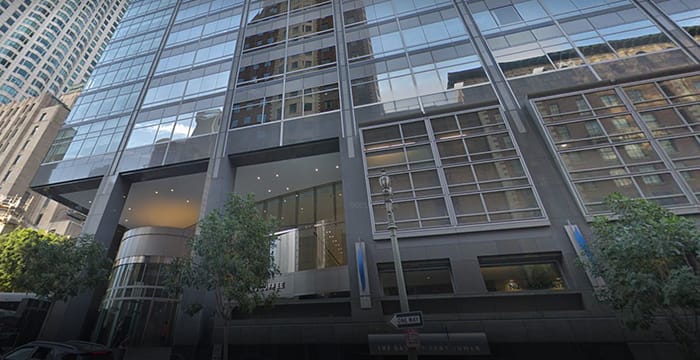 The wife of a Sidley Austin partner who took his own life last month has penned a powerful open letter detailing the devastating toll work-related pressures had on her husband's health.
"I'm beyond lost and I don't know how I'm going to get through the rest of my life," writes Joanna Litt, wife of US lawyer Gabe MacConaill. "[He] was my best friend, my partner, my lover, and my constant." MacConaill, an insolvency and bankruptcy specialist, shot himself in the head in the carpark of the US firm's Los Angeles office on October 14. He was just 42.
In the emotional letter, published by The American Lawyer, Litt explains how she met MacConaill during her time at law school. She adds: "We had every class together and sat next to each other for two bars because of our last names. He was the smartest person I had ever met. He was also the kindest, most selfless person I've ever met."
Noting that the couple at times "worked hard" at their decade-long marriage, Litt reveals MacConaill's most "serious problem" was with binge drinking. "It wasn't on daily basis", she stresses, "but maybe three or four times a year there would be some event or function where he drank too much." Now, looking back, she says she never realised his drinking was "masking a deeper pain".

Litt explains to readers how a "series of ill-fated events at work" had a huge impact on her husband. Following the sudden departure of another lawyer, described by Litt as her husband's mentor and confidant, MacConaill was thrust into an important leadership role. She continues:
"Shortly thereafter, the last partner who was senior to Gabe decided to leave, and an associate whom Gabe spent a lot of time mentoring also left. The Los Angeles bankruptcy group Gabe had so deeply cherished and relied on for support had fallen apart."
Alongside the office shake-up, MacConaill was asked to chair Sidley Austin's summer vac scheme programme and had also started working on a "huge bankruptcy" case. Litt explains that her husband was stressed, struggling to sleep and hadn't smiled in weeks.
Feeling completely "helpless", Litt reached out other lawyers at the firm and asked if they'd noticed anything unusual about her husband's behaviour. Colleagues revealed he was working more with his door closed and "his sense of humour had been gone for a while".
Despite completing the bankruptcy deal he was working on, MacConaill's mental health continued to deteriorate. He stopped responding to work emails, Litts says, and even spent the day at his biological father's grave (who he had never met) instead of going into the office.
On October 14 MacConaill had reached breaking point. "On the morning he killed himself, he said he got an email and had to go into work to put something together," Litt explains. "I wanted to ask if I could go with him and just sit there, but instead, I simply offered to make him a sandwich for lunch. And without any hesitation, he said, 'No baby, I'll be fine—I won't be long.'"
MacConaill, taking his gun with him, was found dead in the firm's carpark later that same day.
At the time of MacConaill's death, a spokeswoman for Sidley Austin said: "We are deeply saddened by the passing of Gabe MacConaill, our valued colleague and partner. He will be fondly remembered by colleagues as well as clients as an outstanding lawyer, partner and friend. Our hearts especially go out to his wife to whom we offer our sincerest condolences."
Struggling with stress? You can contact LawCare by calling 0800 279 6888 in the UK or 1800 991 801 in Ireland.