'I looked down and had the Prince's blood on my hands'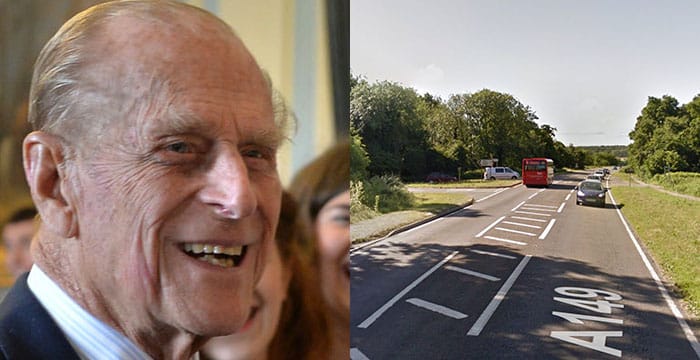 A retired barrister who pulled Prince Philip to safety from the wreckage of his overturned 4×4 has recalled the moment he looked down to see the 97-year-old's blood on his hands.
Roy Warne, who practised both criminal and civil law, was the first on the scene of the accident and reportedly helped free the Duke of Edinburgh through his armoured Land Rover's sunroof. The Prince was unhurt in the crash.
Speaking to The Sun, Cambridge law graduate Warne described the moment he helped free the Duke: "He [Philip] wasn't rude. He was very shaken and he went and asked: 'Is everyone else alright?' He's a very brave man. He didn't make a big fuss about it".
Warne was driving home from hospital with his wife, Victoria, when he witnessed "the Duke's car careering, tumbling across the road."
Having helped free the Duke, Warne told the newspaper:
"I looked down and had the Prince's blood on my hands. All I could think is, thank goodness there wasn't more. I rushed to the other car — there was smoke coming out as if it may explode. There was a baby in the back seat screaming."
The accident happened as the royal pulled out of a driveway near the Queen's Sandringham Estate and onto the A149 (pictured top) shortly before 3pm yesterday. The Land Rover was struck by a Kia people carrier with two women and a ten-month-old baby inside, according to media reports.
The driver of the Kia is understood to have suffered minor cuts, while the passenger sustained an arm injury. Both were treated at the Queen Elizabeth Hospital in King's Lynn. The baby was unharmed.
A spokesperson for Buckingham Palace said: "The Duke of Edinburgh was involved in a road traffic accident with another vehicle this afternoon. The Duke was not injured. The accident took place close to the Sandringham Estate. Local police attended the scene."
According to an online bio purporting to belong to Warne, he has represented clients in the "highest courts, tribunals and public enquiries". He believes that "access to justice is a basic right for everyone, not just the rich, and condemns the savage reductions to legal aid and increases in court fees."
The Duke retired from royal duties in August 2017.