'ISIS bride' stripped of UK citizenship will have to appeal to secret immigration court
Shamima Begum travelled from London to Syria to join the Islamic State group in 2015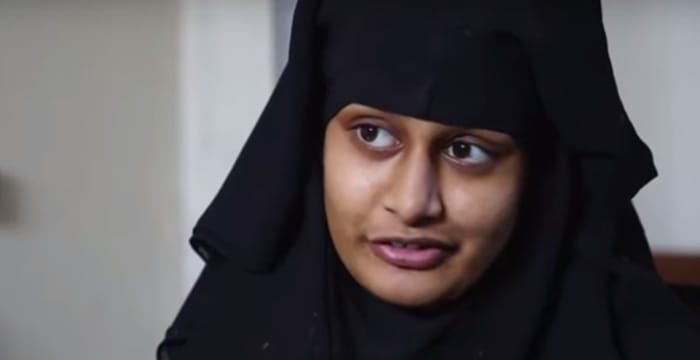 The British teenager controversially stripped of her UK citizenship by the government for joining Islamic State in Syria will have to appeal to a secret immigration court to get it back.
Shamima Begum, 19, hit the headlines last week after she was discovered in a Syrian refugee camp — along with a newborn baby. Begum fled to join the jihadi Islamic State group in 2015 along with two fellow schoolgirls from Bethnal Green Academy in East London. The government announced on Tuesday that it was taking her UK citizenship away as punishment.
In response, the Begum family's lawyer said that they would be fighting the order.
— Mohammed T Akunjee (@MohammedAkunjee) February 19, 2019
The main legal issue in any appeal will be whether Begum has another citizenship to fall back on. Under the British Nationality Act 1981, the government can deprive even-British born citizens of their nationality if it is "conducive to the public good" — but only if they have another citizenship. Making someone "stateless" is against international and UK law.
A recent amendment clarified that "naturalised" British citizens — people who became a Brit as an adult — can have it taken off them even if they don't have another nationality yet, but could get one. But this likely couldn't apply to Begum, who is reportedly British born and bred.
The government will likely argue that Begum is already Bangladeshi through her parents — whether she knows it or not. Immigration lawyer Fahad Ansari of Duncan Lewis Solicitors, who successfully represented two British-Bangladeshi men in a citizenship case last year, said that "UK citizens of Bangladeshi heritage, like Begum, automatically have Bangladeshi citizenship on birth".
"However", he added "if they do not make an active effort to retain that citizenship, it lapses when they reach the age of 21". In Begum's case: "It may be that as she is still under 21, her Bangladeshi citizenship technically remains intact. So she is not stateless by law. It does not matter if she does not hold a Bangladeshi passport, as holding a passport is distinct from the legal fact of citizenship."
Colin Yeo, an immigration and nationality barrister at Garden Court Chambers, said that the government's "notice of intention" to deprive Begum of her citizenship doesn't actually kick in until she has had a chance to appeal.
The ins and outs of Bangladeshi nationality law would likely be fought over in a national security court called SIAC, the Special Immigration Appeals Commission, rather than the regular immigration tribunal. Yeo said that "most public good based appeals will be appeals to SIAC, particularly appeals resulting in statelessness".
Ansari added that in SIAC cases: "A large part of the allegations and evidence is presented to the judge in closed proceedings, meaning that neither the appellant nor his instructed lawyers are permitted to see it or even know about it, let alone try to challenge it."
Begum, who gave birth to a British child just days ago, told ITV News that "I'm a bit shocked… It's a bit unjust on me and my son".