Stunned bride-to-be's family and friends acted as the jury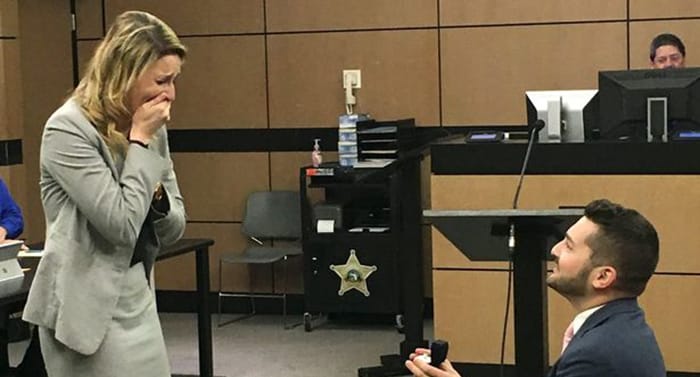 A loved-up lawyer asked his girlfriend to marry him after creating an elaborate fake trial. Taking proposals to a whole new level, Brandon Dinetz, a criminal defence lawyer from Palm Beach, Florida, spent five months planning an imaginary drink driving case featuring a real judge, a fictional defendant and seventeen of his girlfriend's family and friends to act as the jury.
His wife-to-be (she said yes!), Jen Lettman, also a lawyer, was sitting in the public gallery of Palm Beach County Courthouse earlier this month to hear what she believed was Dinetz's opening statement in the case. Addressing the court, an unsuspecting Lettman began to cry when her boyfriend declared his love for her in a sweet statement.
Speaking to SWNS, she said:
"He and I had always talked about getting married and we knew we were going to be together but I didn't think we would get married any time soon. When we worked together we would regularly watch each other's opening statements and critique each other, so it wasn't unusual for me to be in the courtroom with him."
"I ugly-cried throughout the whole thing. I don't remember a lot, but luckily it was caught on camera," the civil litigation specialist added.
Commenting on his successful proposal, Dinetz told the website: "The judge came out and as usual she asked if the state and the defence were ready to proceed and we said 'Yes we are'. Then she said, 'bring in the jury'. All of our friends and family started to come in and I think when Jen saw her sister and my dad she immediately knew. My back was to her but I could hear her start to cry. When she said 'yes' there was a huge cheer from the jury."
As the fake trial drew to close, the judge reportedly told the future groom: "Mr Dinetz you have been sentenced to life".
Dinetz's staged trial follows the engagement efforts of London based lawyer Chris Jeanes, who popped the question to his girlfriend Casey Kinchella, an associate at Ashurst, as their flight to Bali suffered a mid-air emergency. Fearing the worst, the O'Melveny & Myers transactional specialist was forced to bring his proposal forward. The couple reconfirmed their engagement once safely on the terra firma.