??‍⚖️ ?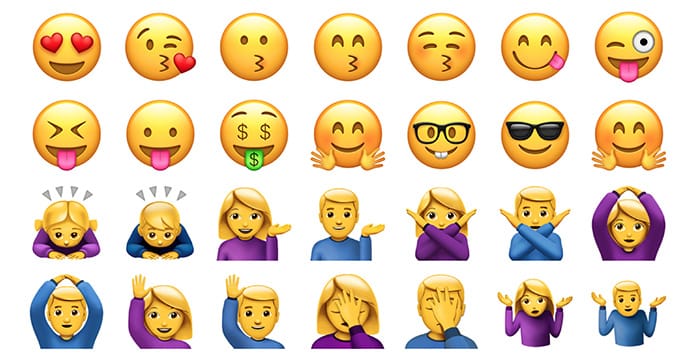 In today's world, emoticons take pride of place in your average millennial's smartphone keyboard.
The teeny digital images are used as a means of communication, typically among younger generations, and can depict anything from animals, food and drink to the weather. But, these seemingly harmless images can often be misused to convey messages of a sexual, and sometimes sinister nature. Take the aubergine '?', for example, or even the peach '?'. Both symbols are widely known to illustrate naughty bits. Then there's the handgun emoji, which, in 2016, was replaced by Apple with a toy water pistol '?' in response to widespread gun crime.
Should our judiciary, who are often viewed as 'stuffy' and typically unacquainted with tech, tap (quite literally) into the colourful world of love hearts and smiley faces? Senior lawyers seem to think so. They have called on the judiciary to learn to interpret the hidden meanings behind everyday emojis.
Speaking to The Times, Felicity Gerry QC, who specialises in serious crime, said: "A legal emoji primer is a good idea for both science and law". Continuing, the Carmelite Chambers QC stressed there was a strong need for a unified judicial approach on the meaning of emojis and that the Supreme Court should lead the way.
As things stand, judges receive explanations for slang and other colloquialisms, but there isn't much guidance for emojis; leaving interpretation to "guesswork by lawyers in trial". The guidelines from the Unicode Consortium, a group including Apple, Google and Microsoft that decides on which emoji are introduced, are not particularly helpful either. The guidelines state that emojis "represent [many different] things".
While emojis can be used to signal the spirit of a message, the fact they do not have clear-cut definitions could provide sticking points for the courts. John Cooper QC, who specialises in serious crime at 25 Bedford Row, told Legal Cheek:
"Judges, lawyers and the legal profession more broadly should understand the conflicting use of emoji and learn to interpret their hidden meanings in civil and criminal trials. In criminal trials, emoji can have a significant influence on the jury's decision and may even cause a miscarriage of justice."
In recent years, emoji seem to have found their feet in the often ultra-serious world of law and legal practice.
In 2016, High Court judge Mr Justice Peter Jackson delighted the legal Twitterati when he used a smiley face symbol in one of his family law judgments to help the children involved understand a complex point of evidence.
Emojis have infiltrated criminal matters Stateside. A young schoolgirl from Virginia was charged with making threats using emojis on Instagram. The post, 'Killing [gun emoji] meet me in the library Tuesday [gun emoji] [knife emoji] [bomb emoji]', led speculation to simmer about whether a case similar to this could take place in the UK.
To demonstrate the power of communication through the medium that is emoji, we reported that there is a Twitter account which tells the story of iconic English cases solely through, you guessed it, emoji ?.