Boris Johnson's court summons appeal initially assigned to Mrs Justice Thornton — wife of former Labour leader Ed Miliband
High Court judge recuses herself due to 'political connection', according to report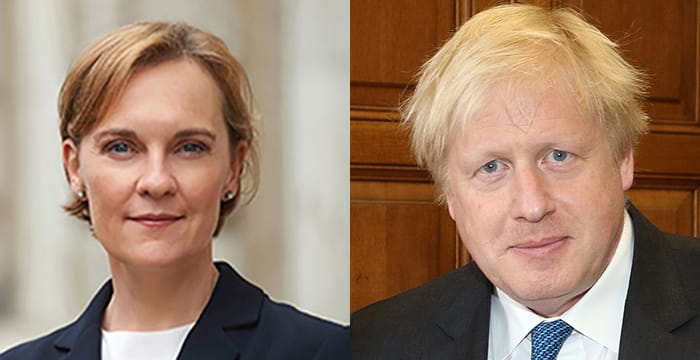 The challenge to the private prosecution of Tory heavyweight Boris Johnson reportedly suffered a minor delay this week after Mrs Justice Thornton (Justine Thornton), wife of former Labour Party leader Ed Miliband, was assigned to hear Johnson's appeal.
As reported by Legal Cheek, Prime Minister-hopeful Johnson was summoned last week to appear in court to face accusations he lied during the Brexit referendum campaign by saying that Britain gave £350 million a week to the EU. The decision came after businessman-turned-crowdfunding campaigner, Marcus Ball, launched a private prosecution against Johnson.
In a further strange twist to this already bizarre story, The Sun newspaper reports that when Johnson's legal team lodged a judicial review application to challenge the summons issued to him, the judge on duty at the time was none other than Dame Justine Thornton QC.
The Cambridge-educated barrister and newly-appointed judge is reported to have recused herself from presiding over the case due to her "political connection". The newspaper claims the freaky coincidence has "slightly delayed" Johnson's appeal.
A spokesman for the judiciary told Legal Cheek:
"When the application was lodged last Friday, Mrs Justice Thornton was the duty judge. She recused herself from hearing the application. The case was then put before the Judge in charge of the Administrative Court, who decided that it required an urgent oral hearing, which has been scheduled for Friday this week. There has been no delay."
The former foreign secretary's legal team argue that the summons issued to him last week by district judge Coleman was unlawful. Ball, who has crowdfunded more than £300,000, confirmed that he will fight the judicial review request.