Exclusive: Shared by aspiring lawyers on WhatsApp and email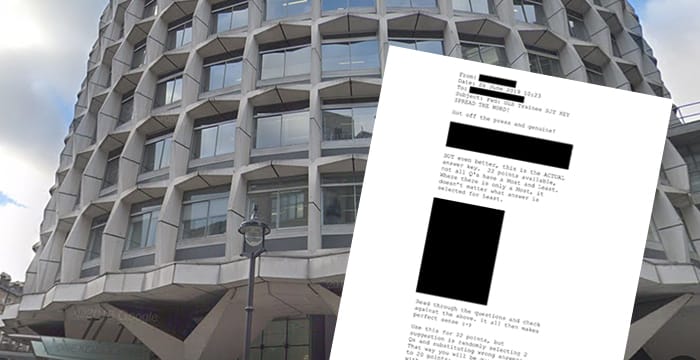 The government's legal arm has moved to reassure aspiring lawyers hoping to secure a place on its training programme that its recruitment processes remain robust and fair after the answers to its situational judgement test (SJT) surfaced online.
The Government Legal Profession (GLP), which recruits around 60 trainee solicitors and pupil barristers each year, issued a short statement last week, saying it had been alerted to the "circulation on social media of a 'key' claiming to provide answers to [its] situational judgement test."
The key, which provides responses to 15 situational questions, has been distributed among students over the past month, mainly via WhatsApp groups, student forums and email. A copy of one such email (with the answers and sensitive information redacted) received by a student and passed on to Legal Cheek can be seen below: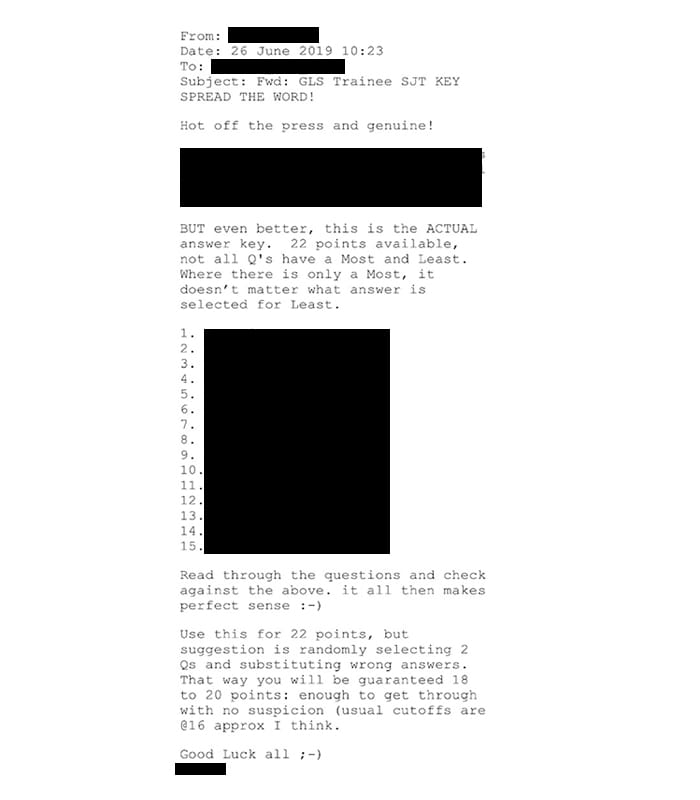 The email features the subject heading, "GLS Trainee SJT KEY SPREAD THE WORD!", and it even advises applicants to randomly submit two incorrect answers to guarantee a score of 18 to 20 points. This, according to the email, will be "enough to get through with no suspicion". It remains unclear how the 'key' ended up online.
The SJT is a psychological test for candidates containing various realistic scenarios where they have to choose the most appropriate response, and forms part of GLP's recruitment processes. GLP's statement added that "action" had been taken by TMP and PeopleScout, the recruitment firms who run the SJT on the GLP's behalf, to "ensure the integrity of the processes is maintained and the system remains robust."
But not everyone was happy with the government's response. "Sadly it was always going to be a case of 'horses and stable doors'", one applicant told Legal Cheek. "Hundreds of applications will have been submitted by people using the key."
A spokesperson for PeopleScout said: "We are investigating the situation and continue to work closely with Government Legal Profession to ensure that the situational judgement test (SJT) process remains robust. As Government Legal Profession shared last week, immediate action was taken to ensure the ongoing integrity of the process."