Magic circle experts share their views; students ask the questions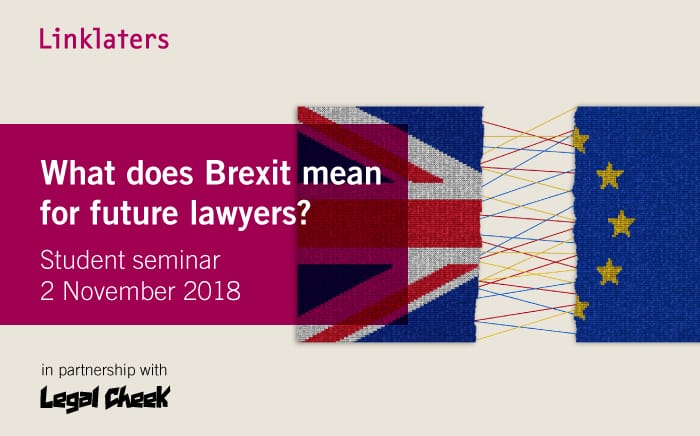 As negotiations over Britain's departure from the EU reach the final straight, Legal Cheek is partnering with magic circle law firm Linklaters for a session about what Brexit means for future lawyers. Apply to attend.
Right now, whether it ends up being Chequers, CanadaPlus, Norway-style or a second referendum, the only certainty is that there will be more uncertainty as divisions within the Tory Government and the opposition Labour Party ensure that no path is straightforward.
With the final European Council meeting of 2018 on 13-14 December seen as the last realistic date to do a divorce deal, this is crunch time — albeit with some potential for further wavering and delays during the agreed 21 month transition period that kicks in after Brexit Day on 29 March next year
On the afternoon of Friday 2 November a host of leading lawyers will take questions from an audience of over 100 aspiring lawyers about the effects of Brexit over the short, medium and long term — and what it means for those seeking to enter the legal profession.
The speakers, from a range of practice areas across Linklaters, are:
• Finn Griggs, partner and global co-head of fintech
• Samuel Coldicutt, associate specialising in international trade
• Imogen Ormerod, trainee solicitor
• Peter Bevan, partner and global practice head of the Financial Regulation Group
In attendance will be very senior Linklaters partners and Brexit experts:
• Lucy Fergusson, partner and global Linklaters Brexit lead
• Sir Christopher Bellamy QC, chairman of the global competition practice
• Richard Godden, senior corporate partner
• Charles Clarke, partner consultant
The session will be chaired by Legal Cheek publisher Alex Aldridge.
The event commences with a panel discussion from 4pm-5:15pm, after which there will be drinks, nibbles and networking with the lawyers on the panel, trainees and members of Linklaters' London graduate recruitment team until 6:30pm.
Apply to attend below. You'll be asked to submit a CV and two questions for the panel. Please note that the details of those offered places will, subject to consent, be shared with Linklaters' graduate recruitment team.
THIS EVENT IS NOW FULLY BOOKED. Our next London event is on Wednesday 7 November with Herbert Smith Freehills — apply to attend.