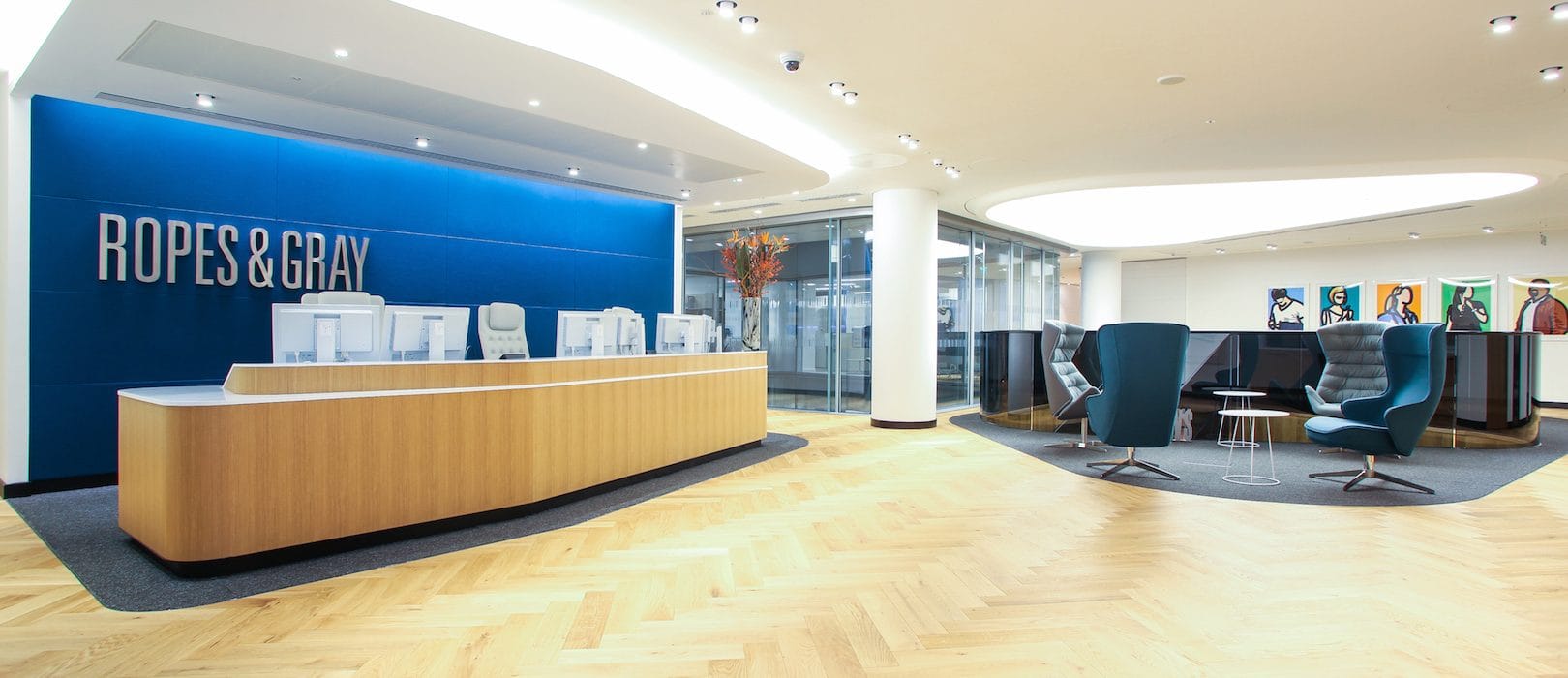 Ropes & Gray
The Legal Cheek View
US giant Ropes & Gray is getting bigger, richer and more diverse. Founded in Boston, Massachusetts in 1865, its most recent financials show revenue rose 22% to hit $2.67 billion (£2.2 billion) in 2021. Across its 12 offices globally (Tokyo, Hong Kong, Shanghai, Seoul, London and seven in the US), it recruited an extra 75 lawyers, bringing the total to about 1,400. It opened another office in Los Angeles in 2022. Private equity, asset management, technology and health care and life sciences are key strengths. For those prepared to put in the hard work to reach the top of the firm, how about this as an incentive: profits per equity partner rose an astonishing 28% last year to $4.33 million (£3.58 million).
Its snazzy London office, in Ludgate Hill at the Fleet Street edge of the City in a building boasting a stunning roof terrace, opened in 2010 and is doing well: it has a strong reputation for private capital work. Last year, the London office grew its asset management practice, and added life sciences and health care to its practice portfolio. Its London team's main focus in the UK is on banking & finance, capital markets, private equity and restructuring & insolvency. It also provides technology, litigation and disputes, financial crime and regulation, data protection and cybersecurity and antitrust work.
Ropes & Gray has been expanding in the UK in recent years, and is now offering 12 training contracts annually in its London office, including a London-Tokyo TC. Like other American outfits, the firm's pitch revolves around big money and high-quality work (in return for lots of responsibility and long hours). Ropes is an enthusiastic player in the ever-escalating salary race. As of this year, NQs start on £147,000 plus bonus, a sizeable jump from the previous level of £130,000. Trainees start on £57,500, rising to £62,500 in the second year.
All that's required in return is you work very, very hard. It is a US firm, after all. Unsurprisingly, Legal Cheek's insiders tells us work-life balance isn't great. "Don't make me laugh. I haven't seen sunlight in three months," one rookie jokes (sort of). Others, who perhaps have been remembering to supplement with Vitamin D, were more positive. "There are busy weeks but people respect that you need a work life balance," one said. "The firm has great systems in place to monitor capacity and ensure people are doing the appropriate level of work for their PQE." Another commented, "very late nights and long hours are expected, and most people seem to do at least a few hours of work on the weekends".
Trainees say you need to be prepared to hit the ground running but will be supported. The small and personable nature of the London office apparently means you will get a fair bit of direct contact with the partners and senior associates. "Some departments are better than others at training, with seniors putting in real effort to explain concepts and terminology," says one trainee. "Others just throw you to the wolves." Another reports that "training is mainly on the job. Significant responsibility means you develop quickly. Senior colleagues are enthusiastic about questions and discussing complex issues". Former trainees report there is "an open-door policy" and London partners are "highly approachable and down to earth normal people. Always feel very comfortable asking them questions etc…"
For a snapshot of trainee life, how about this description? "From day one, you are treated somewhat like an NQ and are given immense amounts of responsibility and trust. It makes trainees incredibly adaptable, competent, and proactive. With that said, you are not left without support. A network of paralegals, associates, and partners are generally available to answer questions and guide you. However, our training emphasises independence and you will become more trusted the more you show you can take the initiative and act without requiring direction."
Newbies will be given a fair amount of stimulating work, although of course, "ultimately when things are busy you do have to pick up a lot of administrative tasks which is understandable". Nevertheless, variety is the spice of life at Ropes. There is a "huge variety of work, as a trainee you are never shoe-horned into one type of work. Breadth of institutional clients mean trainees experience transactions from multiple perspectives".
A former trainee reveals: "Private equity work is incredibly varied and no two deals are identical. The fast pace also ensures that you obtain a breadth of experience early in your seat. Being able to complete important tasks with minimal guidance is also a very rewarding process to go through." Rookies have also enjoyed working on "some of the most exciting deal work for top tier clients like Bain, Liberty Global, Google and have taken a junior role on a variety of investigations matters".
Since the pandemic, the firm has embraced remote working, stating it does not expect ever to mandate a five-day a week in-office environment again. Employees are equipped with a "hefty technology allowance" of about £800 and enjoy a 24/7 IT support line, which is reportedly "excellent and highly responsive". During the pandemic, the firm couriered an independent Wi-Fi modem to one rookie's house within a couple of hours after their internet connection failed.
Partners "are generally very approachable and welcoming", although rookies are advised to "be aware of the different styles preferred by partners". Most seniors are "very amenable and approachable". It's your peers you need to watch out for, according to one rookie, wryly commenting: "Makes Kirkland look like a crèche." This comment may not be fair to K&E's juniors, and is not echoed by other insiders. "The people at the firm are lovely and will always offer to cover if you are away," according to another rookie. "Collaborative environment in which there is always someone to answer your questions or give a helping hand." Another one describes them as "generally, a great bunch".
Another Ropes & Gray attraction is the decent international secondment opportunities which are "regularly offered" to juniors. Around a quarter of rookies do one, with Hong Kong a popular destination. Client secondments may also be available.
Perks, apart from astronomical financial remuneration, include "free lunches, £32 Deliveroo allowance and a barista on Wednesday". The firm also provides free breakfasts and a concierge service to support with life admin and bookings.
Money
First year trainee salary
£57,500
Second year trainee salary
£62,500
Newly qualified salary
£147,000
Profit per equity partner
£3,580,000
Hours
Average start work time
09:19
Average finish time
21:58
Annual target hours
No targets
Secondments
Chances of secondment abroad
0%
Chances of client secondment
14%
General Info
Latest trainee retention rate
85%
Minimum A-level requirement
No minimum
Minimum degree requirement
No minimum
Universities Current Trainees Attended