White & Case lawyers share their advice with students and give key commercial awareness insights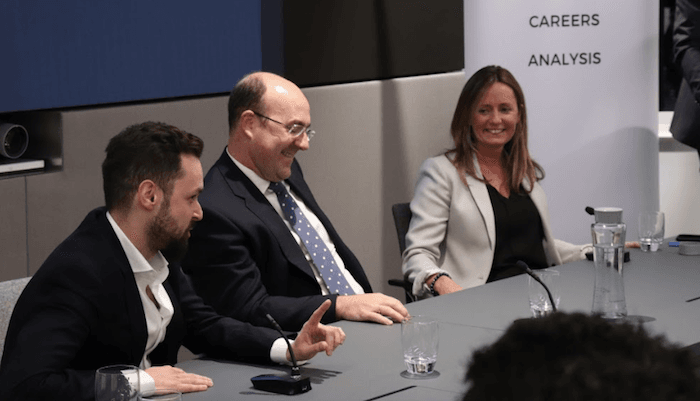 Passion resilience, and having the confidence to be yourself are often the differentiating factors between those who make it into top law firms and thrive as City lawyers, and those who don't.
That was one of the key messages at Legal Cheek's recent student event, 'Behind the deals that power the global economy' with White & Case in London.
A key quality is passion. "If you really care and really put your heart and soul into it and are dedicated, you will all have fantastic careers … and learn from the mistakes you will inevitably make to become better lawyers along the way," White & Case capital markets partner Inigo Esteve told the audience of over 100 students. He added that genuine enthusiasm for law and commerce was impossible to fake — and those who had it just needed to "be themselves" and let that shine through.
According to White & Case private equity partner Emma Parr, if you have experienced failure you build "resilience", which is an essential trait in the tough yet stimulating environment of corporate law. Ahead of an interview prepare examples of where you "have failed, where things haven't gone your way and where you have dealt with them," she advised.
Providing a practical perspective was Andrzej Omietanski, an associate in the elite global firm's London energy, infrastructure, project and asset finance team. For Omietanski, an important element of students getting their foot in the door at the likes of White & Case is being sufficiently well organised to juggle training contract applications with their studies. "Finding the time and planning is very important," he said.
The trio also shared their views on the state of the global economy, highlighted growth industries to watch, and told the audience about their most memorable deals and favourite elements of the job.
All three agreed that ten years on from the end of the financial crisis we are probably nearing the end of the current economic cycle. "It's the longest bull run we have ever been in so it has got to come to an end at some point," commented Parr, as she raised concerns about growing levels of corporate debt. From an equities perspective, Esteve noted that things were also looking a little "frothy" with US stock markets at an all time high.
Omietanski, who is currently advising on several large projects in Turkey, observed that emerging markets are particularly vulnerable to a strengthening dollar and rising US interest rates — many having borrowed heavily in the currency in recent years.
At a time of increasing tension between the US and China, and Brexit, you don't have to look far for a potential trigger to a new period of upheaval.
But when that does ultimately happen, lawyers, based on past experience, will be well-positioned as they shift their work away from new transactions and instead towards restructuring existing deals whose structures have become distressed. Indeed, Omietanski noted that this had already begun to happen in some of the emerging market jurisdictions in which he advises clients.
Such countercyclical deals can be among the most memorable, as you're "helping to save jobs and help companies through," said Parr, even if they lack the "very different, upbeat vibe" of transactions that take place during the good times. Esteve named one of those good times deals, the $11 billion initial public offering (IPO) of Glencore, as his professional highlight to date. "To be involved in something like that, with such huge figures from the world of business, is very challenging but ultimately you can gain a lot of confidence from it," he said.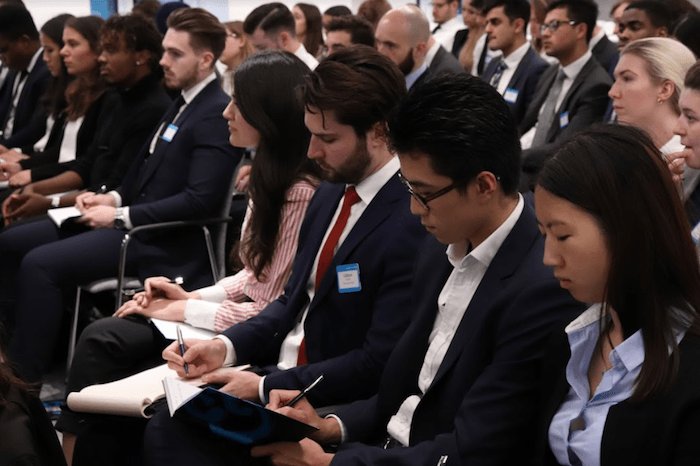 Looking ahead, Esteve identified fintech as a key area for the financial world, as retail banking undergoes disruption from new entrants and investment banks continue to adapt to new post-financial crisis regulations. Parr, meanwhile, hopes to see the UK take more of a lead on innovation, as the tech revolution spreads out across every industry. Both were bullish on London's future as the leading financial centre outside the US — whatever the outcome of the Brexit negotiations — although Omietanski observed that cities such as Hong Kong and Dubai will be looking to benefit from any upheaval.
Not that life as a White & Case lawyer is particularly attached to a specific location. "The firm opens offices where the work is and as lawyers we travel: I've been to Russia, the Nordic countries, the Middle East, South Africa, Central and South America, mainland Europe — basically everywhere," said Esteve, adding: "This is not a place for those who want to do cosy journeys down the M4."
Find out more about becoming a trainee at White & Case.
About Legal Cheek Careers posts.