From labs to law: Why I became an IP lawyer
Chemistry graduate turned Pinsent Masons intellectual property associate, Kirsteen McEwen, shares her career story, ahead of next week's virtual event with STEM Future Lawyers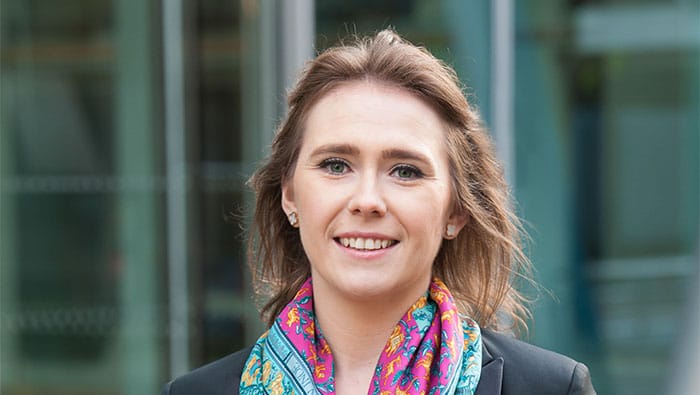 "I find it odd that law is classed as an 'art subject' because I find it quite mathematical," Kirsteen McEwen, associate at Pinsent Masons, tells me when we speak. She explains that "if you have the law as your equation — fit the facts into your equation and out pops the answer", adding that lawyers can also be creative by using case law to support the outcome.
Before McEwen was a life sciences lawyer specialising in patent litigation, she was a chemistry student at the University of Edinburgh. She told me her decision to pursue a chemistry degree stemmed from her interest in "the way the world works".
McEwen was particularly drawn to the 'practical' aspect of her degree, which resulted in her spending a year at GlaxoSmithKline (GSK) as a process chemist. "I was part of a team responsible for troubleshooting issues in the manufacturing plant and while I was there it was announced that the plant would close." She went on to explain that when GSK closes a plant, the company doesn't just stop making the product; rather they transfer it to another site or manufacturer. Her role was to support this technology transfer from one manufacturing plant to another. She credits this experience for igniting her interest in law:
"During the process, I was exposed to lawyers and regulatory teams and I was impressed by how well the lawyers understood the business and how they could converse on the science aspect of it. It opened my eyes that one could use chemistry outside of a research lab!"
McEwen then completed her chemistry degree and began to apply for training contracts. She says that because she only discovered late into her degree that she wanted to make a switch to law, her CV fell short of any legal work experience. She made up for this shortfall, securing a vacation scheme first at SJ Berwin, and then a training contract with the firm.
So how did she find the transition from a non-law degree to completing the postgraduate law vocational courses, the Graduate Diploma in Law and Legal Practice Course? "There was lots of reading," she says but gives aspiring lawyers a helpful tip: "Look at case law as a collection of stories. As long as you remember the brief outline of the story, you will remember why it is important and the legal principle that comes from it."
After completing her training contract she qualified as an intellectual property lawyer at Pinsent Masons. "I chose Pinsent Masons because they came across as a 'normal' firm. Everyone was very friendly, technically capable and the firm was leading on the innovation front," explains McEwen. "We're not just a law firm, we're a professional services firm with law at the core. Pinsent Masons has accountants, a consultancy service and a team of product engineers who build tech products to assist clients."
McEwen touches on the stereotype that STEM (Science, Technology, Engineering and Maths) graduates tend to go into intellectual property (IP) law. "I remember when I was applying to become a lawyer, I was very clear that I didn't want to be pigeon-holed as an IP lawyer," she says. There are many other practice areas that benefit from having lawyers with STEM backgrounds, she adds. "For example, technology, media and telecommunications (TMT) requires an understanding of data and technology when dealing with infrastructure projects."
IP can be tricky to wrap your head around and so McEwen provides a handy breakdown. There are four key components, she says. First, there is patent law which is the law dealing with invention and technical creativity. Second, there is trademark law and 'passing off' which is concerned with branding. Third is copyright law which is the law that governs artistic creativity. "These laws are going through a period of significant change as they were written in the 1980s before the digital age," McEwen explains. Fourth is design law which is all about the technical look and feel of products. She puts forward an interesting example: "Mobile phones are all the same in that they're a tablet format, you can use them to make calls and they have an interactive screen. However, the reason you pick one over the other is the design — the look and feel."
McEwen is keen to share her experience of being a STEM graduate turned lawyer to students with similar aspirations. Not only did she spearhead the upcoming STEM in Intellectual Property Law Open Day with Pinsent Masons, but she plans to use the event as a springboard to start a wider initiative to get more STEM students and graduates interested in getting involved in the many different roles within Pinsent Masons.
So, what is her key piece of careers advice? "Get as much experience as you can," she recommends. "Apply for lots of vacation schemes and remember to view it as a two-way interview where you can also see if the firm is a good fit for you. If you can't do a vacation scheme, try speaking to people through open days and virtual law fairs."
STEM Future Lawyers is partnering with Pinsent Masons on Thursday 29 October to host a virtual event for science, technology, engineering and maths students and graduates who are interested to find out more about how STEM is relevant to some of their key practice areas. You can apply to attend the event, 'STEM in Intellectual Property Law', for free, now.
About Legal Cheek Careers posts.