Ahead of 'Secrets to Success London' tomorrow evening at ULaw Moorgate, Ashurst senior associate Briony Holcombe — a panellist at the event — looks back on her career to date and shares her advice with future lawyers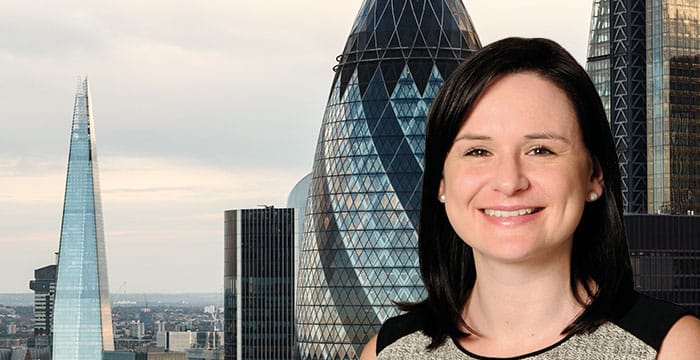 Senior associate Briony Holcombe took a slightly unusual route to her role in Ashurst's London banking team, in that she's Australian and has previously worked in Canberra and Sydney.
After graduating with both a Bachelor of Laws and a Bachelor of Commerce from the National University of Australia in 2008, she joined Ashurst in Canberra on a training contract, which lasts 12 months in Australia. This was followed by a three-year stint at the Sydney office where she earned her pinstripes in the banking and finance team. Briony then switched firms, returning to Canberra to work for Minter Ellison on procurement and commercial contracting matters for 18 months before taking up her current job in Ashurst's London banking team in 2014.
So, what advice does Briony have for aspiring Ashurst lawyers (and lawyers at other global law firms)?
"All applicants will of course be very intelligent, well-qualified and have a good knowledge of law so the interview will carry a lot of weight," she says. "In my experience, if they can demonstrate a genuine interest in Ashurst, in industry and in the legal sector then that will set them apart from the rest. Be really well prepared — not just in your knowledge about the firm but also in terms of being able to structure a good answer to questions. Sometimes, law firms will ask interviewees a question they know they won't know the answer to just to see how they respond. In that situation, an applicant who can demonstrate thorough logic and think on their feet can be equally impressive as an applicant who simply has the correct answer."
Briony, who is currently trying out a new golfing hobby around her work, played a range of sports while in Oz, including netball and tennis. "Firms generally like people who have a life outside the office," she says. "It's good to show that you're a well-rounded individual when you're applying, so try to let your personality shine through during the interview. You can definitely bring your outside interests and extra-curricular activities into your answers, and it's important to have interests outside of work."
While Briony knew she wanted to be a lawyer, she didn't know which practice area would appeal until she completed her training seats and found she enjoyed banking. Consequently, she advises people to keep an open mind about what they want to do and take every opportunity that comes their way to try out different types of work.
One such opportunity is secondment to a client, an experience that Briony says she would "definitely recommend". She is currently on a six-month secondment to HSBC and has previously enjoyed stints at Lloyds Banking Group and UBS. These have deepened her understanding of the client's business. As Briony says, "you really get to see first-hand how the client works, the context in which they operate and the particular pressures they face, for example, on timing and deadlines, which may be different to our own."
Teamwork and the sense of completion on each project are two aspects of her job that Briony really enjoys. She comments:
"In transactional work, you are working in a team and interacting with a team at every stage. I like transactional work, knowing that while I may be working behind the scenes at times, my work will ultimately help the client to secure the finance they need to make an acquisition or grow their business. It can also be hectic at times, for example, where the deal has to be put in place quickly, but you have the satisfaction of completing your part of that work with the team and getting the deal done for the client."
As for the future, what trends are developing and what can graduates expect? One point to note is that lawyers are becoming more generalist and less specialised. In practice, this means people are gaining skills, knowledge and experience in a wider range of areas. Meanwhile, as always, technology is on the march.
As Briony explains, the two are connected. "People are becoming more generalist because technology is streamlining a lot of high-volume work that they would otherwise need to do. That means they no longer need to spend those long hours on that work, for example, AI can identify the relevant provisions in a long document so the task can be completed much more quickly." This frees up time so lawyers are upskilling to become more generalist.
Finally, if the increasing role of technology in law alarms some of the less tech-enthusiastic graduates, then Briony can offer some reassurance. A good understanding of tech can be helpful but is not necessary, she explains, as all law firms will have a dedicated tech team on hand to help out, show lawyers what to do and offer any necessary training.
Briony will be speaking at 'Secrets to Success London — with Ashurst, CMS, PwC and Ropes & Gray' tomorrow evening at The University of Law Moorgate. Apply for one of the last few places to attend.