Five months' into the programme and ahead of the deadline for next years' ambassadors, Durham University law student Tommy Adeyefa reflects on his experience so far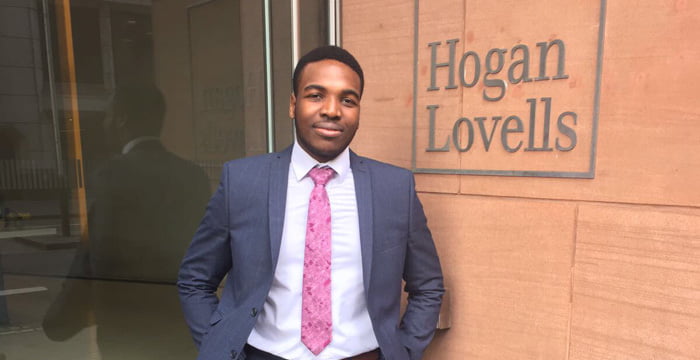 Law firm campus ambassador roles are highly sought after amid the growing pressure on students to start perfecting their CVs early on. Tommy Adeyefa, who is five months into his Hogan Lovells ambassador role at Durham University, has already set the ball rolling.
Tommy first heard about the programme at a law fair after approaching a promotional stand manned by Durham's former Hogan Lovells campus ambassador. "She was incredibly passionate about the scheme and that encouraged me to put an application in," Tommy tells Legal Cheek Careers.
Tommy submitted a dual application for both Hogan Lovells' first-year vacation scheme and the City firm's campus ambassador role. He successfully passed an online critical reasoning test, and the next stage was a telephone interview. "The interview was more like a conversation, as they really got to know me as an individual — I wasn't grilled about my competencies!" Tommy — the founder of Durham's African and Caribbean Society — reflects.
The penultimate-year law student was "overwhelmed" when he secured the campus ambassador position, which commences in September. Before then, future ambassadors are paired with those from the previous cycle, who share their experiences — as well as any tips. "I learnt what to expect," Tommy tells us, "it's a great opportunity to discuss what went well for them and what needs to be improved."
Additionally, there's a training induction day held at the firm's London office for all campus ambassadors, who for 2017/18 represent nine universities across the country. In 2018/19 the firm is looking to recruit campus ambassadors from 13 universities. During the training induction day, the new recruits are given guidance from colleagues from graduate recruitment through to partner level about the firm, the responsibilities of the role and on the types of questions to expect from students.
Tommy admits "there was that initial pressure" when he started out, since "you're representing a global brand". Though this was soon mitigated when he was introduced to colleagues from the graduate recruitment team's creative agency, Stafford Long & Partners who assist with various graduate recruitment brand awareness and social media driven campaigns. "I learnt about the importance of marketing and how it is crucial to the functioning of the firm's business — this was very educational," he says.
Once trained and equipped with all the necessary information, ambassadors head back to their universities to market the firm on campus. These include: helping to plan, promote and run the firm's milk round events on campus. He also manages the firm's presence online: "I work with Stafford Long to see how best we can engage students and regularly write and share posts on our dedicated Facebook page." Ambassadors work for the first two terms of their second year and are remunerated £300 each term. It's handover in the third term, before the cycle starts over again.
A highlight for Tommy thus far has been winning a competition for the most email signups in a half-day — he received 150. Armed with plenty of branded chocolate bars, he encouraged students on campus to enter an autumn competition and sign up to the firm's mailing list on an iPad. This was a "great" experience, not least because of his win, but because:
"I was able to interact with science and engineering undergraduates — students I wouldn't normally encounter. Approaching different students and being able to talk about the different opportunities available at the firm from first to final year has built my confidence. I can now adapt the style of my communication and tailor my knowledge to an individual."
More broadly, he has been able to use his ambassador platform to "challenge students' misconceptions" about City law — for example, "there's more to corporate law than just M&A".
Aside from interacting with students, Tommy tells us there are extensive opportunities to network and build your relationship with the firm: "I liaise with graduate recruitment almost every week." On the social side, the firm hosts regular ambassador team lunches and dinners. There are plenty of "get togethers" marked on the calendar too. "We're very close-knit," he remarks.
With the 25 February application deadline for next year's Hogan Lovells campus ambassadors looming, Tommy says he thinks the role is best suited to those able to manage their time effectively. "It can be quite the balancing act," says Tommy, who currently manages law school and society commitments alongside ambassador work. More than ever, he understands the importance of planning ahead: "I've just finished the first of two end-of-term reports; setting time aside for these is important."
In addition to this, Tommy recommends:
"While working to the deadlines imposed by law school, set your own in line with your workload and leave plenty of time for contingency."
For first years hoping to secure a place on the programme, he recommends "expressing your personality both in the way you write and speak".
If things don't work out, "every experience is good experience if you can learn from it". Though it can be difficult to assess how you can improve, Tommy advises requesting feedback after the assessment centre: "This completes the knowledge gap and will often tell you things about yourself that you do not know."
Having already completed a vacation scheme with the firm in his first year, Tommy was able to fast track his application straight to the assessment centre for the second-year vacation scheme. "That's definitely a great perk," he says. Tommy was successful in this endeavour and is looking forward to being back at Hogan Lovells this summer.