As the March application window opens, Norton Rose Fulbright trainee Sarah Greenwood talks about the upsides to life as one of firm's ambassadors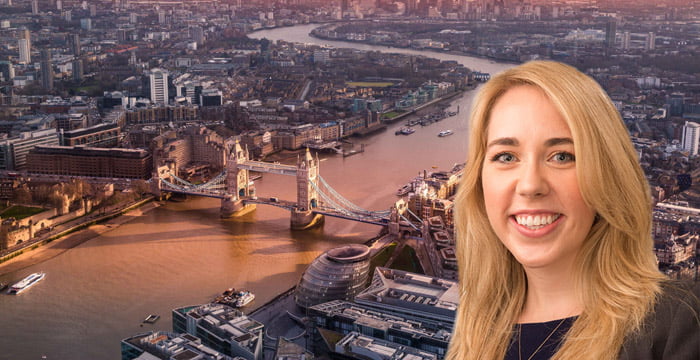 For Sarah Greenwood, a second-year trainee with Norton Rose Fulbright, working as the firm's university manager during her LLB at the University of Warwick was not only "a brilliant way of getting to know the firm" but also a collaborative, two-way enterprise.
"The role means you're the eyes and ears of the firm," explains Greenwood. "It comes with plenty of responsibility, but it's not about working in a vacuum. So as much as I'd be helping other students, I'd also be giving feedback, too. The firm works to have a positive and accurate reception amongst potential applicants, and so I'd give regular updates on what my peers thought of it."
Norton Rose Fulbright runs its university manager programme at Birmingham, Bristol, Cambridge, Durham, Exeter, KCL, Leeds, Leicester, LSE, Manchester, Newcastle, Nottingham, Oxford, Queen Mary, Sheffield, UCL, Warwick, and York. First year undergraduates can apply towards the end of their first year, and, if successful, work throughout the next academic year. A handy £500 is up for grabs, as well as travel expenses — and networking, says Greenwood, comes with the territory:
"The role means you're liaising with the firm and also its other university managers. We'd have regular meetings to compare notes and brainstorm ideas. Networking is part and parcel of working in the law, so this aspect of being a university manager is really helpful — it gives you an understanding of how important connections are."
Greenwood hails from Canada, and a passion she developed in her homeland perhaps illustrates her natural aptitude for the blend of organisational and ambassadorial skills that are vital for a university manager. She is a qualified football — or soccer, as it is known in Canada — referee, and officiated for nearly eight years for the Ontario Soccer Association. "I love the game," says Greenwood, a Manchester United fan. "I'm a Fifa-qualified referee and, subject to obtaining the necessary permission from Canada, would love to do some refereeing in the UK."
It was during an exchange programme on her first degree, in politics, that Greenwood found herself in Britain. "I was studying at Queen's University in Ontario and came to Warwick in my third year," she says. "I had always planned on going to law school, but it was then that the idea of attending law school in the UK came to me."
In 2013, then, Greenwood began her LLB at Warwick. She was elected as the university's first year law representative, and, as well as being a university manager for Norton Rose Fulbright in her second year, was also Warwick's Charities and Welfare Officer for much of the same period. This level of commitment to being engaged with the law, and other professional matters, is vital, says Greenwood:
"Law is incredibly competitive and aspiring lawyers need to do things to show their passion and enthusiasm. They need to show prospective employers a real interest in law."
Greenwood's stint as university manager meant that she focused on marketing Norton Rose Fulbright and promoting its graduate recruitment on the Warwick campus. More specifically, she says:
"I planned various events on behalf of the firm throughout the year, and submitted regular updates regarding outreach and feedback around campus. For most of the year, I ran the Facebook group 'Norton Rose Fulbright — Warwick University' to promote the firm and their opportunities around Warwick. We also created a first-year essay competition that would reward the winner with a two-day work experience with the firm."
All of this, says Greenwood, contributed to a better understanding of the business of law, and gave her an insight into Norton Rose Fulbright's culture. It was one she found all the more congenial after completing a two-week vacation student scheme in summer 2015, just before she began her third year. "Vacation schemes are fantastic ways to learn about how the law works, and to see if a firm is right for you," says Greenwood.
In her case, she worked with the project finance team, producing a briefing on Russian investment in African countries in the area of oil projects, as well as learning the process of offshore wind farm transactions. Then, says Greenwood, "in the second week I sat with the tax team, working on documents researching share-securities schemes and pension arrangements. I also participated in a formal group assessment exercise, where we were asked to present legal and commercial considerations on one company acquiring another organisation."
The die was cast, thanks to both her experience as a university manager and Norton Rose Fulbright's vacation scheme. Before it was over, Greenwood formally applied for a training contract. She was delighted when her interview, also held during the vacation scheme, was successful.
With the LPC at BPP Law School complete — not to mention a final-year position as Chair of the Student Staff Liaison Committee (SSLC) at Warwick and Treasurer of the Warwick Law Society — Greenwood joined Norton Rose Fulbright in February 2017. She hasn't looked back since. "I'm really enjoying being here — the work and sense of camaraderie is fantastic. It's everything I hoped it would be. The university manager role was a great way of understanding the firm and discovering that it would be the right one for me," she says.
About Legal Cheek Careers posts.