Curiosity to really understand the firm, and longstanding interest in business, propelled Nick Little to TC success. Ahead of Irwin Mitchell's vac scheme application deadline on Monday 15 January he shares his story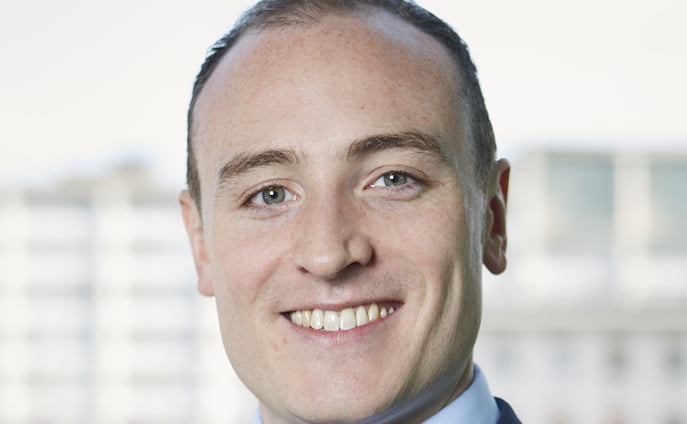 Nick Little, a corporate solicitor with Irwin Mitchell in Birmingham, is a rugby fan — and he betrays his enthusiasm for the game with some advice for aspiring lawyers.
"You've got to play what you see," says Little, who played as a centre for his local club while studying an LLB at Manchester Metropolitan University (MMU). "In an ideal world, I'd have walked straight into a training contract, but it was the tailend of the credit crunch when I was looking for a job in the law. I had to confront the situation as it was, and adapt to it."
That meant, in Little's case, taking a job as a paralegal with Irwin Mitchell in January 2011. He would remain a paralegal for more than two years before, in August 2013, securing a training contract with the firm. But although his ideal scenario didn't materialise, the Sale fan — Little often watches the club's games– wouldn't change a thing.
"My time as a paralegal was invaluable," he says. "It enabled me to get a really good understanding of the firm and how it works. The flipside was that the firm got to know me well, too. Even today, in better economic circumstances, the law is a very competitive marketplace and jobs can be hard to find, so taking the paralegal route could be the best option for law graduates. If they're good, the firm will recognise their talent."
Little knew he wanted to go into the law in his teens, but was also keen on business. "The two worlds, law and business, have always interested me," he says. "I thought about going into business but law had the edge, so I took A-levels that would complement law." With A-levels in Law, Government & Politics, Economics and Business Studies under his belt, Little put some practical experience on his CV, too:
"Each summer, during my A levels and university, I did work experience with local law firms in Manchester. I'd recommend this for anyone thinking about the legal profession. You need to be able to differentiate between law as an academic discipline and law in practice. Work experience gives you a taste of what the career will be like, beyond the study of law in textbooks."
While at university, Little also made sure that he was engaged with the law beyond the LLB curriculum. He joined and then co-chaired MMU's Critical Lawyers' Group, which, as he puts, "explored policy issues underpinning and influencing the law. It was jurisprudence-based, and was a great way of developing the creative and lateral thinking skills that are essential in day-to-day legal practice."
To help with his finances, Little had a part-time job while at MMU. He also found time to take part in a business competition, "a Dragons Den-type thing where groups were given charge of notional companies and tasked with advising on their strategy and pushing them on." How did he fare? "My group was comprised of five lawyers. We won the competition, beating opposition from the business and other degrees." Little can speak with experience, then, when he advises: "Getting involved with student law societies and developing business skills are brilliant ways of adding to your law degree."
Little emerged from his LPC at the College of Law midway through 2010. The country was in economic crisis, and he recalls that "back then law firms going under or struggling on a far too frequent basis" in his hometown of Manchester. So playing what he could see, Little ramped up his hours in his part-time job — and set about securing a paralegal position. By January 2011 he was in situ with Irwin Mitchell, whose vacation scheme deadline closes next week, on Monday 15 January.
What benefits has Little seen from the schemes, now that he's two and a half years' qualified as a corporate lawyer?
"I've supervised quite a few vacation scheme students, and what's striking is the way they're given a chance to do hands-on work. They're not quite thrown in at the deep end, but they are exposed to the reality of legal life and given a lot of interesting and challenging work. They get the full picture of what the firm is like, and what their careers will be like."
As for Little's career, while at one stage he contemplated becoming a litigator he is more than happy to have become a corporate lawyer. Based in Irwin Mitchell's Birmingham office, he enjoys a workload entailing M&A, company restructuring and private equity led transactions, and is active in the Birmingham Chamber of Commerce and the city's Birmingham Professional Services group (BPS Birmingham).
"We're encouraged to get involved in business development, but it's not all work – far from it," explains Little. "I've met many people through these groups who've become good friends. All in all, the emphasis on business suits me."