Fletchers Solicitors' Joshua Whittam reflects on his six-year journey from school leaver to fully-qualified lawyer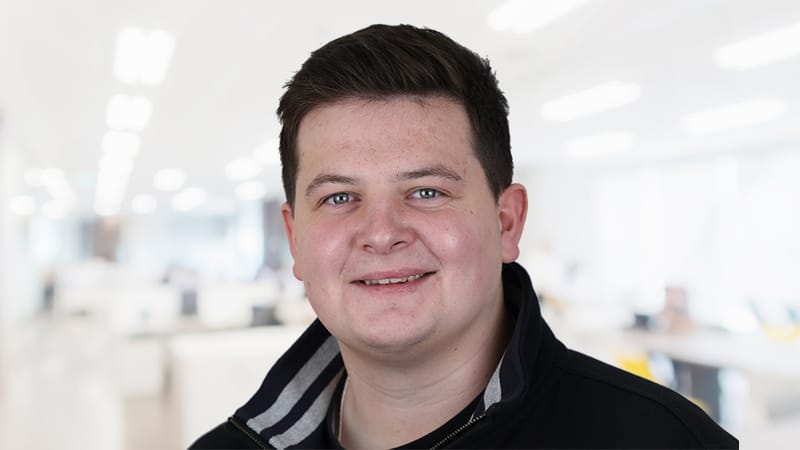 Formerly one of Fletchers' first legal apprentices and now a solicitor at the firm, Joshua Whittam could be considered something of a pioneer. He sat down with Legal Cheek to discuss his experiences.
Whittam's story starts in 2016 when he was finishing sixth form in Southport. A local law firm approached his A-level law class asking for applications to their new training scheme. "Unbelievably, only a handful of us applied for it," he recalls, "I think, looking back, some of those people who didn't, must be regretting it now."
That local law firm was Fletchers Solicitors, now one of the UK's best-known personal injury specialists and one of the top 100 UK law firms by revenue. Whittam was one of just three candidates selected for the firm's first solicitor apprenticeships. Now, at the age of 25 and almost one year since qualifying as a solicitor, Whittam has accrued almost seven years of experience in the profession.
Reflecting on his decision to pursue a legal apprenticeship, Whittam has no regrets. "I was considering my options, one of which was to go to university full-time, which I wasn't particularly keen on — I knew I'd be back in the same position in three years' time competing with graduates for entry-level training jobs."
An apprenticeship just seemed to offer the best all-around package, he recalls: "The freedom of full-time university where you start to lead your own life was appealing, but I wanted to get started on a career. I wanted to save for a house and have a family one day, and being able to earn a wage whilst getting real experience just seemed perfect."
Over the six-year scheme, he spent four days a week at work and one day a week attending university, working through a degree, then the SQE, and most recently a master's. Being part of a small three-person cohort meant that his studies were always strongly supported and tailored through regular feedback.
But like any journey there were challenges. "You go to university to learn black-letter law and famous cases but that doesn't always translate into what you'll do day-to-day" he says. There was also the difficulty of balancing work alongside study on the apprenticeship scheme: "That was the hard bit", he explains, "gaining more responsibility and slowly learning how to organize myself."
The SQE regime change came into effect during Whittam's journey to qualification and he found himself in the first cohort to sit both SQE exams. "We started the apprenticeship with the intention of doing the LPC," he explains, "but our university prepared us for the change and we were kept up to date all along. We took the stoic approach to it: "it's gonna happen, there's nothing you can do about it — don't think, just revise!"
Despite being guinea pigs for the regime change, this stoicism and a positive outlook helped Whittam and his peers through the process. "It was new for us, but it was also new for the SRA and the university, so everybody was stepping into the unknown and I took a little bit of comfort in that," he says. "My understanding of the marking for the SQE is that it's marked on a bell curve, so we just needed to be as good as everybody else."
It has been widely reported that students are finding the SQE1&2 exams challenging, especially as they cover such a variety of formats. "The best way to prepare for the multiple-choice exams is to do lots of practice questions," he advises. "Then for the written SQE2 exams, you need to be specific, and you'll be fine. I must confess, the advocacy exam was the most nervous I've ever felt for an exam because it's something that I don't have the opportunity to do in practice," he says.
"On the face of it when you stand at the bottom of the hill, it's a huge mountain, but it's not so bad when you break it down," he explains.
Listening to Whittam, the benefits of training whilst in practice are clear. "There are certain things, intangible elements, that you cannot teach," he says, "sitting next to a senior solicitor, talking to a barrister or talking to a client about what's happening in that case is the sort of education you can't pay for." Plus, he adds, the firm is very supportive: "They gave me so much time to focus on education. I was allowed a day off work every single week as a minimum, and then more when it came to exam time."
After training at the Southport office, Whittam made the move to Manchester when he joined the Employers' Liability and Public Liability (EL/PL) team. "It's a team that provides exposure to the most diverse type of work," he says, covering everything from unsafe working practice injuries to trips and slips over potholes on defective highways.
When it comes to what it takes to be a good EL/PL lawyer, he emphasises three skillsets: the ability to remain calm and think about things logically, good customer service skills and being able to deal with a caseload efficiently.
Finally, what advice does Whittam have for school leavers trying to decide if a legal apprenticeship is the right route for them? "If you've done your research, spoken to people in the industry, and you've decided that it's the career for you, then go for it," he advises. "It can be stressful, but the right firm will support you through it. Fletchers is a great place to be as we have such a great group of people."
About Legal Cheek Careers posts.