Durham University law student Victoria Cherrington has built a strong relationship with Herbert Smith Freehills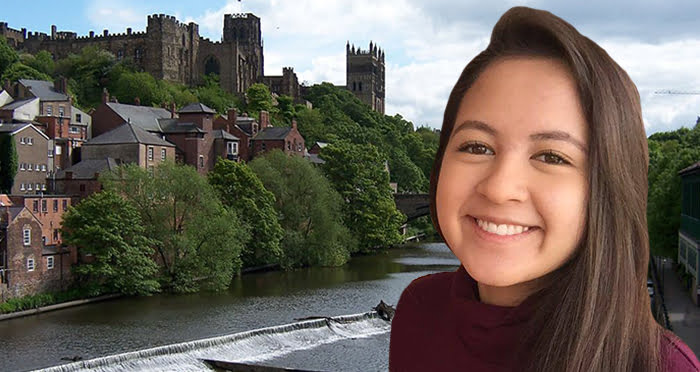 Educated in Hong Kong and now studying law at Durham University, aspiring lawyer Victoria Cherrington doesn't have the benefit of living close to the City of London. But, having been a campus ambassador for Hebert Smith Freehills since the beginning of the academic year, Cherrington is now better connected to the firm than most Londoners.
"Being a campus ambassador is a great way to engage with a London firm," she tells Legal Cheek Careers. "You are invited to Herbert Smith Freehills for a training day, where you're able to meet the team and get a feel for everything. After that, the job is all done remotely through regular email and phone correspondence, which means you're not travelling up and down the country every week."
Herbert Smith Freehills' ambassador scheme is a great example of firms trying to make inroads in universities outside of London. Students from more than 30 universities take part, including at the likes of Dundee, Leeds, Manchester, Trinity College Dublin and York which are hundreds of miles from London. (The full list of participating universities can be found on Herbert Smith Freehills' graduate recruitment website.)
But it's not just the campus ambassadors themselves benefiting from the scheme.
The raison d'être for Cherrington's work is to give other Durham students the opportunity to engage with the firm too. The second-year student — who applied for the ambassador programme last March — helps arrange on-campus events including one where Cherrington and firm representatives answered students' questions over a hot chocolate and offered students the chance to win an insight day. At a talk called Inside the Headlines, hosted at the Radisson Blu hotel, associates spoke to students about headline-making cases they'd recently worked on. "It's great to see the firm making such an effort to visit students in universities outside of London," she says.
In building a strong connection with the firm, Cherrington now also understands, more holistically, what the firm is about. She says:
"Being so involved with Herbert Smith Freehills means I know so much more about the firm now than I would've done just from looking at the website. It's just a great way to see what the organisation is all about. I now know Herbert Smith Freehills is the firm for me: its international focus, its culture and its work means it ticks all the boxes for what I'm looking for."
With a passion for and an increased knowledge of the firm, Cherrington's ability to speak confidently in interviews about Herbert Smith Freehills and her desire to work there has led to her securing a vacation scheme at the firm. It seems the seeds of her newly-improved interview skills are already beginning to bloom.
"I'm really excited to be taking part in the three-week summer vacation scheme," Cherrington says, "and I've already picked intellectual property and dispute resolution as my two department preferences."
But for Cherrington — who is set to graduate in 2019 — the most important interview is yet to come. All of Herbert Smith Freehills' vacation scheme students are invited to attend an interview for a training contract at the end of the placement. From Durham representative to training contract interviewee — the benefits of the campus ambassador programme are palpable.
And yet, taking part is not a big time-commitment. "Being an ambassador takes no more than three hours of my time a week, so it's no different to joining a student society," Cherrington explains. This leaves the penultimate-year student time to lead her university's Amicus pro bono student group and to be the international representative for her university college. Most of her time though, is directed at her law degree understandably.
Applications are now open for Herbert Smith Freehills' campus ambassador programme. With the 20 March deadline approaching, does Cherrington have any tips for those thinking of applying?
"Just be yourself!" she tells us. "I found the campus ambassador interview more laid back than my vacation scheme interview. There is a small commercial awareness element to the questions asked, but ultimately interviewing for the campus ambassador position isn't really about trying to impress the firm with your legal knowledge or show the firm you'll be a great future lawyer. It's much more about showing you can interact with students and talk about the firm in a positive and helpful way, which is something that will probably come quite naturally to you. Just relax and let your personality shine through."