We speak to two junior lawyers about their time at McCann FitzGerald LLP ahead of next month's Legal Cheek Virtual Irish Law Fair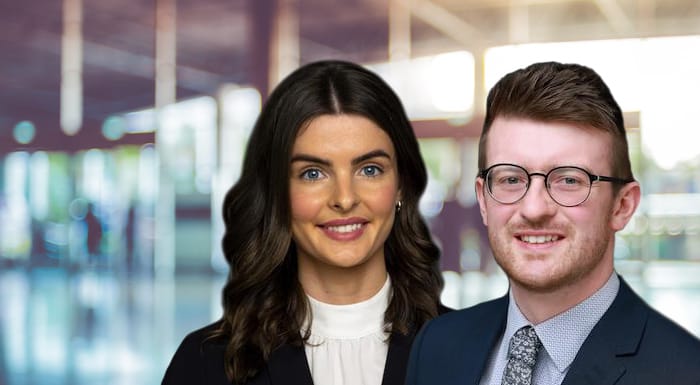 Ahead of McCann FitzGerald's attendance at The Legal Cheek Virtual Irish Law Fair on 19 October, we sit down with two of the firm's junior lawyers, Conor Daly and Aoife McCarthy, to discuss training, career highlights and those all important application tips. Check out their Q&A below.
What first attracted you to career in commercial law?
Conor Daly: When studying law at university, I was unaware of what a career in commercial law would entail as it seemed a world away from the lectures, tutorials and assignments of a student. From completing the internship with McCann FitzGerald in 2016, I got a glimpse of what working in commercial law would be like. I was drawn to the newsworthiness of the deals and the importance of the clients in the Irish economy and society more generally. This created a tangible relevance to the work done which I found interesting and motivating.
Aoife McCarthy: I have always had an interest in both business and law so I was naturally attracted to the idea of working in commercial law. It was also important to me that I chose a career that would be challenging and offer good variety. Working in a commercial law firm places high demands on its solicitors to be not only top class legal advisors but also to possess the necessary business acumen to better understand and effectively advise clients. It is the type of work that is fast paced and often high profile, which means you're never short of challenge or variety.
Why did you apply for a traineeship at McCann FitzGerald and how did you find the process?
Daly: As with many university students on their Erasmus year, much of my time was spent filling out application forms for various law firm internships (perhaps a distraction from my increasingly neglected assignments). The application form was straightforward and I was fortunate enough to get an internship with McCann FitzGerald where I spent three weeks working in the real estate department in the Dublin office. This period was invaluable to get to grips with the sort of work a commercial firm deals with day-to-day and to get a sense of the ethos and personality of the firm and those who make it up. Having enjoyed the internship, applying for the traineeship seemed like the next logical step.
McCarthy: Before applying for a traineeship at McCann FitzGerald, I trained and worked as a midwife so when it came to choosing a firm to begin my new career journey with it was important to me that that firm was progressive and embraced my unique experience. The firm's core values of leadership, integrity, progress and performance are values that are integral to working as a midwife, which meant when it came to choosing a legal firm to train with, McCann FitzGerald seemed like the perfect fit. The process of applying to McCann FitzGerald really reinforced this belief. Both the application form and interview process were designed to get a flavour of the applicant's personality and it became clear early on that the firm was not just interested in my academic ability but wanted to know what made me tick. By framing the application process in this way I think the firm attracts the best people, which in turn helps it remain a notably personable firm.
Do you have any top tips for students who are considering applying?
Daly: My main tip would be to bring as much of your personality to the application as possible. Lean on any unique interests or experiences that could set you apart or make you memorable to the person reading the application. However, it is important to be mindful that you are answering the question asked. Saying you climbed Mount Kilimanjaro, though an undeniably interesting experience, wouldn't be relevant if asked what the challenges to remote working are in a post-Covid world (unless you plan to WFH on Mount Kilimanjaro). I would avoid repetition as much as possible. I would not use an experience to demonstrate "teamwork" in question 1 and then draw on the same situation for a "time you overcame adversity" in question five. If in doubt about an answer, imagine being the person reading the application and try to picture what they would think.
McCarthy: Try let your personality shine through. Most people applying will have impressive academic records but it's important that the firm attracts a wide-range of people that can offer different perspectives and ways of thinking. Show the person reading your application or interviewing you that you have interests outside of work. With the written application in particular, I would say try to provide concrete examples of how your experience to date will benefit you in a career in commercial law and how this aligns with the values of McCann FitzGerald.
How do you rate the training you received at the firm?
Daly: I couldn't fault any aspect of the training I have received from McCann FitzGerald. Aside for maybe five minutes on my first day, it never felt daunting being part of a large corporate firm. There is a focus on developing the junior members of each team and incorporating them into the work at all levels. Even through the unprecedented challenges that the lockdown presented, the firm adapted very well to ensure the trainees' development wasn't affected. I did rotations in litigation, real estate and finance and as each seat wore on, my understanding of the practice area deepened which was bolstered by various departmental lectures from in-house and external speakers on different aspects of practice.
McCarthy: One of the standout features of McCann FitzGerald's trainee programme is the emphasis that is placed on learning and development. As a trainee, you attend regular workshops designed to expand your knowledge on all practice areas of the firm. You are also provided with the opportunity to show off your knowledge by delivering your own trainee lecture at the end of the traineeship, which is a daunting but pinnacle moment of the traineeship as you move towards qualification. Lastly, I would say the opportunity trainees are given to share an office with a partner is a great aspect of the traineeship as it allows you to not only learn by osmosis but to more easily develop working relationships with partners throughout the firm.
To date, what has been your highlight of your time at McCann FitzGerald?
Daly: The stand out highlight is undoubtedly the time spent in Blackhall Place for Professional Practice Course (PPC) 1. Getting to know the people in my intake more was very enjoyable and also had the knock-on effect of people looking out for each other even more upon returning to the office. If you helped someone on a night out in the depths of winter in PPC1, they might return the favour when helping with a CBI filing. It was also great to meet new people from other firms in other parts of the country who are at the same stage as us and could provide a different perspective on the work they do.
McCarthy: Honestly, the lifelong friends that I have made while working in the firm. As with any commercial law firm, there will be times when you work long hours but those hours are far more bearable when you're surrounded by great people. I think the pandemic really highlighted this for everyone in that, when working from home you no longer have those daily interactions at the coffee machine, eating lunch or when knocking on a team member's door to ask a question or chat about the weekend. For me, working in the firm is as much about the people as it is the work itself.
What do you enjoy doing away from the office?
Daly: Since working in McCann FitzGerald's London office since July 2021, I have been able to live out a boyhood dream by becoming a season ticket holder for Fulham Football Club (the next best thing to actually playing). I enjoy attending games with friends, family (and anyone I can convince to tag along). Since lockdown, I was also one of the many people who downloaded Strava, and huffed and puffed my way around on a 5km challenge. I have since taken up running more regularly and at the time of writing, I am training for the London marathon.
McCarthy: I like to travel and be active. I think it's really important to unwind and recharge outside of work and one of the ways I like to do that is to discover new places. I tend to use my annual leave sporadically throughout the year so that I always have something to look forward to, be it a trip somewhere close by in Ireland or further afield. I also enjoy being active and socialising with friends.
What's the most helpful piece of advice you have received as a junior lawyer?
Daly: No matter what Jay Cartwright from The Inbetweeners might tell you, you can't say "completed it mate" when it comes to being a lawyer. Qualifying as a solicitor doesn't change the fact that there is always more to learn, more skills to develop and new areas of the industry to discover. Being a lawyer requires adaptability and a hunger to learn and to keep abreast of current affairs and how world events can impact your work and the needs of clients.
McCarthy: Make an effort to get to know the people you work with. As a trainee, you will work with various teams throughout the firm as you move through your different rotations. At the start of my traineeship, I was told to utilise that time to build working relationships with each member of those teams as it would really stand to me on qualification. It was excellent advice because now that I am qualified, I will often require the expertise of colleagues throughout the firm and, having fostered those relationships, I can easily pick up the phone and pick the brain of a colleague when a query comes in from a client that is outside my remit.
McCann FitzGerald will be exhibiting at The Legal Cheek Virtual Irish Law Fair on 19 October alongside other leading Irish and international law firms. You can apply to attend the Fair, which is free, now.
About Legal Cheek Careers posts.