Ahead of this week's virtual event, Ashurst's UK Head of IP and Digital Economy partner, Sunny Kumar, discusses his varied career and how his passion now lies with IP law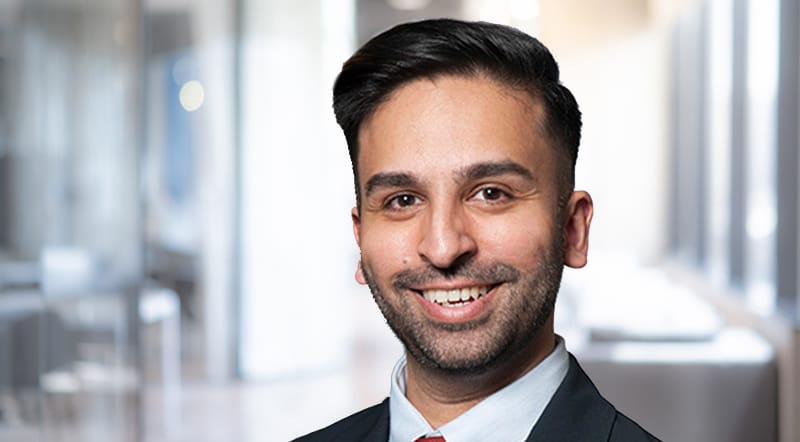 Ashurst's Sunny Kumar joined the firm as a consultant in January of this year, with plans to leave after six months. But his plans quickly changed. "I instantly felt drawn to the Digital Economy team and what they offered me as an intellectual property lawyer", says Kumar who now heads up the office's busy IP team.
Discussing what the Digital Economy team's work entails, Kumar tells me that it "focuses on businesses which have tech at their core". The team itself is composed of five divisions — digital infrastructure, commercial contracts, IP, data protection and fintech, with each of these headed up by a partner. He reveals that one of the team's biggest clients is Meta, and that he's recently been appointed as IP counsel on the Meta panel.
One of the things Kumar enjoys about the Digital Economy team is the opportunity for crossover with IP — "a tech-driven client might want our expertise on their complex IP licensing matters but simultaneously have questions concerning service contracts and laying undersea cables for wireless connections", he details. While a lot of other firms would approach this by putting members from individual IP, corporate and TMT teams together, Kumar points out that having a Digital Economy team allows for a more integrated approach. "We can service all of these needs as one team comprised of like-minded peers who understand both the tech, legal and regulatory elements", he details.
It's not just the Digital Economy team that prompted Kumar's decision to stay on, but the culture at Ashurst as well. "As a firm we are very entrepreneurial. We have the opportunity to go and make something of ourselves with the support of the firm," he notes. Kumar came to Ashurst because the firm wanted to expand its IP offering in London and globally, which presented an exciting opportunity for him. "The partnership is exceptionally collaborative with a great mix of younger energy coupled with deep sector expertise, meaning great ideas and solutions come out of it", he explains.
As the firm's UK Head of IP, Kumar doesn't just work with clients just in the Digital Economy team, but has a broader involvement, also covering work with clients in the life sciences sector, something of special interest to him given his background as a scientist. He often advises clients on their complex copyright and brand-related matters too, something he really enjoys, having first experienced such work during his time as an in-house lawyer at the BBC. IP disputes in this area are at the cutting edge given the use of generative AI tools and the metaverse, which throw up all sorts of copyright and brands-related issues. Disputes in this area is something he is advising more regularly on, Kumar tells me.
Seeking a new challenge and feeling it was time to move on, Kumar shifted from the world of science to law. Confessing this wasn't entirely out of the blue, Kumar says, "I come from a family of lawyers, my grandfather was a lawyer and my brother is too". Given his strong science background, the attraction to IP law was only natural. However, for those seeking to establish themselves in an IP practice, "science degrees aren't necessarily important — there's more to IP than just life sciences", Kumar clarifies. His main draw to IP right from his training contract, through to his time at the BBC and then in City law came from the practice area's broad scope. "I felt straightaway that working as an IP lawyer meant working in a practice area which contributed to the future, and this excited me", he recalls.
I also asked Kumar on the differences between an in-house and a City law practice, given his experience in both. "I think a lot of people see in-house as an easier option. I completely disagree with that", he says candidly. "When you're working in-house, you only have one client to service, the business, rather than having several external clients, as you would in a law firm. But you have to keep in mind that people in the business will go home around 6pm. So every instruction, document and input required or needing to be actioned needs to be done between 9am and 5:30pm, and so it can get incredibly pressurised during that time frame. This is something private practice lawyers are often (but not always) immune from".
Kumar contrasts this with life at a law firm, where you have the ability to spread the pressure over longer hours. There's also a distinction in the type of work on offer, with Kumar noting that working in-house entails a "stronger connect to the heart of the business, having inputs on commercial decisions and strategy".
Hence, while working in-house often requires providing quick advice to the business, Kumar says he prefers the belt and braces approach followed in a City law firm. "I enjoy having the time to explore a matter in-depth and provide clients with more considered advice on often complex matters which inhouse teams may not always have the bandwidth for", he notes. "I also missed the variety of work, being able to apply my knowledge across different sectors".
Drawing on the theme of Legal Cheek's virtual event in partnership with Ashurst this week, I asked Kumar about the opportunities and challenges for businesses, given the increasing confluence between the physical and the digital economy.
"The main opportunity is that businesses are able to reach a larger number of consumers and customers, and do so in a quicker way. But alongside that, come the challenges of keeping up with and foreseeing the regulations governing business operations. Additionally, from an IP perspective, there's also the question of how businesses can protect their copyright protected works and brands in an era of Web 3.0 (and probably 4.0!)", details Kumar "While these are exciting times, the key aspect is to keep up with all the technological and regulatory (sometimes lack of) changes occurring."
So, what advice does Kumar have for those seeking training contracts? His top tips are selectivity and proactivity. "Be considered in your search and apply to the right firms for the practice area that you are interested in," he suggests. "Engage with those firms, attend insight days and speak to trainees and associates. Never feel like you can't email HR and request to speak to a trainee or an Associate to help answer your questions so as to inform your decision making. Lawyers may be busy and take time to respond, but most of the time, we will get back to you", he assures.
Sunny Kumar will be speaking at 'Digital Economy – with Ashurst' a virtual student event taking place this Thursday (14 September). Apply now.
About Legal Cheek Careers posts.