The global law firm building a full-service practice (with training contracts) in Manchester
Training contracts are central to success in northern city, says BLP Manchester office head Damian Fleming — ahead of his appearance at Legal Cheek's latest student commercial awareness event in the North West on Thursday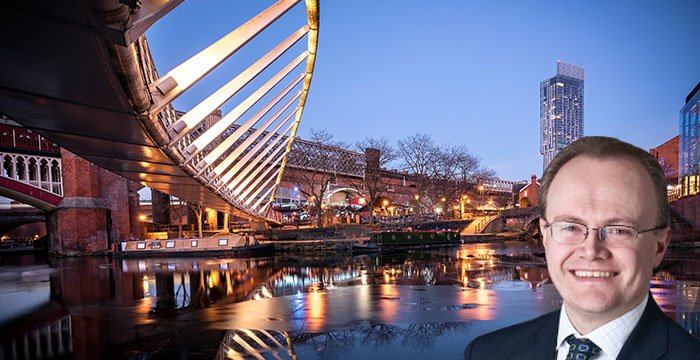 Damian Fleming is a dab hand at real estate law, but he's also a great man to know for law grads more likely to be after a training contract than an office block. Inspired by the role played by a uni lecturer in giving him a leg up back in the day, the Berwin Leighton Paisner partner takes his responsibilities to the next generation seriously.
"Very early on as a partner I wanted to get involved and give something back," Fleming reflects. "I've been a long time graduate recruitment partner, I do assessment centres and training contract interviews at BLP, but equally as important I've been a trainee mentor for a number of years. Every trainee at BLP is allocated a partner mentor who will give them guidance on their careers as they go through the two years of their training contract."
It's a role that has brought the 46-year-old to Manchester as head of BLP's office there, established in 2014. Legal Cheek sat down with him ahead of our commercial awareness session in ULaw Manchester on Thursday 22 February, where Fleming is on the panel.
After turning down a rather less lucrative life as a musician, Fleming was first drawn to law via Amnesty International but quickly discovered a passion for private law. "I realised that contracts, torts, land law are the bedrock of the economic life of the nation," he says, crediting an Oxford tutor with the realisation that he'd thrive in the commercial environment of Slaughter and May. After cutting his teeth at Bunhill Row, a move to property specialists BLP was a natural decision for the real estate lawyer; he's been a partner for well over a decade.
So far, so traditional. But the property man is proud of his firm's "numerous awards for innovation", stating that "innovation and doing things differently is at the heart of what we do". BLP is, after all, the birthplace of legal freelancing outfit Lawyers on Demand.
How does Manchester fit into this picture? Fleming credits "the combination of a well-established legal brand with the advantages of being in a new office, so feeling more like a start-up". One advantage of a less stuffy atmosphere — the office plays host to a dozen legal apprentices, recruited straight out of school — is that the customers love it. "Clients see us doing what they are doing, starting to look more like them. When clients say, in a really positive way, 'it doesn't feel like a traditional office, it feels like a lot more like how we operate', that shows we're in tune with what clients want," says Fleming.
Certainly, BLP's operations in Manchester have come a long way in a relatively short space of time. Fleming reflects: "The office now does not look like the office that was set up in 2014. At that time it probably looked more like some other global firms' Manchester offering does now, with significant bodies of paralegals to deliver specific work products as a part of larger transactions for clients".
Now, the focus is on bringing in "good quality lawyers at all levels", from partners (Fleming himself has been joined by finance veteran Steve Clark) to trainees. Two internal candidates were handed training contracts last year, and certainly seem enthused about life in Manchester. The firm is now taking external applications for training contracts beginning in 2018, 2019 and 2020.
Be warned: it's not a soft option. "The recruitment process is every bit as robust as our traditional recruitment process," says Fleming, adding that BLP's aim is to offer something that others can't: "cutting-edge and quality work for a national and international client base. We're not focusing on the exclusively north-west market".
Instead, it's about being "one team, multi office": a bit of BLP that happens to be in Manchester, rather than a local branch dealing with local deals.
"They're not going to be sitting there in Manchester thinking that they are in some way a second class offering to what's going on in London". Trainees, he continues, will be exposed to the same level of work as their London counterparts. And they get invited to all the London socials — if you can tear yourself away from a hopping Manchester party scene.
So what pearls of wisdom can potential trainees expect on Thursday? Fleming is giving nothing away, but promises to be "open and honest about what it takes to succeed in a leading law firm in the UK". It's hard work, but the end goal isn't "identikit lawyers doing things in the traditional way. Having the opportunity to be yourself, do what is important to you, be true to you, but with rigour around it and good quality training: that's what we have to offer".
BLP's Damian Fleming will be speaking at 'Secrets to Success — Manchester' at the University of Law on Thursday 22 February. Apply to attend.