It all began when a partner asked David Carter to write a report on potential innovations to improve efficiency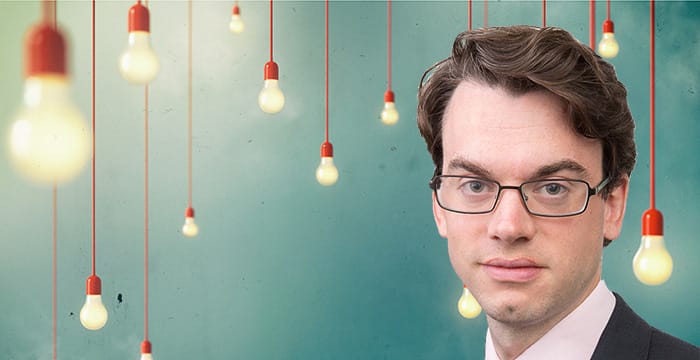 David Carter is the commercial director at Norton Rose Fulbright (NRF). In this role, Carter is part of a team leading change in how Norton Rose Fulbright delivers legal work. He oversees the firm's service delivery teams including pricing, legal project management and resource management, ensuring new technology and optimal ways of working are made available and supported effectively across the lawyer population.
He is also responsible for framing new ways of offering and delivering services to clients, made possible by the firm's internal change and innovation programme, NRF Transform — trailing and testing new ideas, ensuring they work before implementing them within the business.
"My career path is illustrative of the fact there are all sorts of opportunities available now at law firms," he says. "Lockstep progression is disappearing in many firms and more entrepreneurial opportunities are arising."
After studying philosophy at Exeter University, he completed the GDL and LPC at BPP in London, worked as a paralegal for six months and joined Norton Rose Fulbright. He trained with the firm in London and Hong Kong, qualifying in 2013 and practised as a financing and projects lawyer for three years.
"I enjoyed it," he says. "It was very interesting. Every single project is completely different and, whether you're building a runway in Greece or a mine in the Democratic Republic of Congo, you're focused on finding the best outcome for the client." These experiences showed him the value both of creative thinking and maximising efficiency.
His direction of travel changed, however, after a partner he'd worked for moved into a different position within the firm and tasked him to write a report on innovation. His report, identified changes that the firm could trial to improve efficiency, one of which included setting up a legal process 'Hub'. With his changing role, a third of his day was allocated to developing ideas with the broader innovation team, whilst continuing with his fee-earning work for the remainder. With the team he spent his time investigating what work could be outsourced, whether technology could be used more efficiently, and how the firm could coordinate its people with these advancements. He then transitioned to a full-time role in this area, before being made commercial director in June.
One of Norton Rose Fulbright's major successes has been the development of the Newcastle Hub — headed up by Kiran Radhakrishnan, working with Carter. The Hub, which opened in 2016, is at the forefront of developments in legal process, technology and innovation and is a key aspect to the firm's strategy focussing on delivering legal and business services to the global network.
The Hub's teams of lawyers, legal technology specialists and paralegals conduct legal process-based tasks such as document review or multi-jurisdictional surveys, as well as designing and testing new technologies. Other innovations include the creation of a flexible lawyer pool, where junior lawyers can move between departments according to need, and a global tool for the allocation of resources.
Carter's work could be classed as legal design, a hot topic du jour for global law firms, who are keen to rethink their working methods and make full use of technology. Lawyers starting their careers now face a very different landscape from that of their predecessors. For a start, the importance of non-lawyer departments has grown considerably. Carter says:
"Historically, the business of law has been a very traditional set up but advances in law firm organisation and legal sector technologies mean that we can now deliver services to clients in more effective and efficient ways. Cross-functional teams of legal and technical experts work together to deliver innovative solutions to client problems."
A major source of interest for global firms is artificial intelligence (AI), the technology that will supposedly bring forth a stampede of robot lawyers crushing all junior associates in their path. "We're working with a number of providers to determine how these technologies are improving and bringing efficiencies to our legal services. Interestingly, we're finding it's the less glamorous workflow collaboration tools that are making more of an impact, for example, a platform that sits in the 'eye of the storm' of a banking transaction, coordinating all the input."
So, what advice for a lawyer at the start of his or her career? "Good lawyers will remain essential and people aren't going to stop wanting their legal problems solved," he says. "But, there will be new opportunities — there are so many more skill sets that law firms need. People should not just think it's about getting on a treadmill that makes you a partner at a later date. They should keep their head up, and always look around for opportunities and ways to do things differently."
David Carter will be speaking alongside other Norton Rose Fulbright lawyers at tonight's 'Reimagining global law firms through legal design' event.
About Legal Cheek Careers posts.