Osborne Clarke lawyers discuss the big commercial awareness question of the moment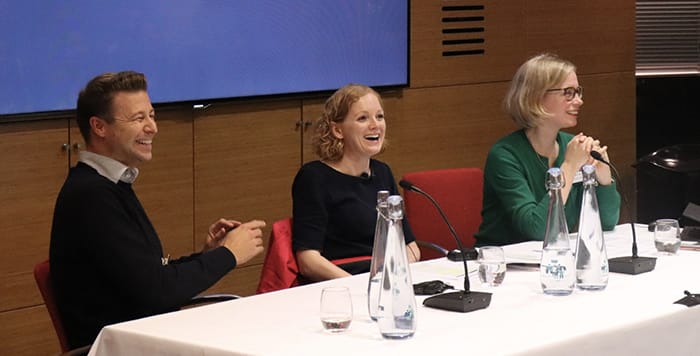 The digital revolution has given us tech giants with vast businesses and global impact, but it's also impacting on non-tech businesses across all sectors, which are shaping digital strategies to position themselves for the future.
Retail is a good example of a sector experiencing technological change. The 'Amazon effect' means national retailers are having to refocus their business models, have less physical sites, more 'click + collect' services, and use technology in store to reduce margins and create an enhanced shopping experience for customers. Also on retailers' agendas is more sophisticated use of data to better understand their customers — of which more later.
This sort of upheaval generates plenty of cross-sector legal work for full-service global law firms with digital expertise like Osborne Clarke, whose teams of commercial and technology lawyers work alongside sector specialists to help bring to life their clients' new digital strategies.
"Our expertise in digital business is often how we go to market in all of our sectors, not just the tech sector," said Osborne Clarke partner Ashley Hurst, speaking at Legal Cheek's recent student event with the firm, 'How technology is changing business'.
Beware of the blockchain trap in interviews
Law firms must not only advise on current disruption but also need to understand where the next wave is coming from. With that in mind Osborne Clarke is keeping a close eye on blockchain, the distributed ledger technology underpinning cryptocurrencies that is now being trialled more widely. Osborne Clarke digital revolution knowledge lawyer Catherine Hammon describes blockchain as "a new way of sharing and securing data", adding: "the combination of locking down data so that you can't change it and its wide visibility is valuable".
Currently blockchain is still making the biggest waves in finance. Hammon notes that more than half of the financial products being tested in the Financial Conduct Authority's (FCA) experimental sandbox scheme are blockchain-based. But the technology could also be a big deal for global supply chains where there are lots of people and paper involved. As shipments move all around the world, they have to go through customs, obtain stamps of authorisation, and make sure insurance is in place — lots of paperwork means it can get lost, forgotten or mislaid. But if this data is locked down onto a blockchain, it's secure and visible — everyone can see it, it won't get lost and it can't be tampered with.
But beware of the blockchain trap in interviews. Hurst warned the audience of 90 students: "Be ready to explain in simple English what blockchain actually is… it's the first question I would fire back to anybody asking about it." Beneath the blockchain hype clients are struggling with this too. "Businesses are asking that very question — does it add enough value, in terms of efficiency and costs-savings, to go through the horrible complication of understanding blockchain and implementing it?"
Hurst gave some further interview direction: "Everyone is talking about AI and blockchain, but I think if you spend all your time worrying about blockchain you'll miss some of the other issues that businesses are dealing with right now — such as moving to the cloud, GDPR, making their businesses more efficient through other simpler technologies… connectivity and what 5G is going to do in terms of making the internet quicker, broadening the capacity of the internet and making it more reliable is going to be huge for businesses… In addition to discussing the exciting technology innovation clients' businesses are facing, I would also discuss some of the day-to-day issues they are facing now".
GDP-aaarghhhh!
One such issue is the General Data Protection Regulation (GDPR), the EU's data protection directive, created partly in response to concerns about big tech companies' use of mass data, that gives the public a "right to an explanation" for algorithmic decisions, and a "right to be forgotten" for privacy.
In Hurst's view, it's "a massive force against innovation, I think it went too far". But he also noted that GDPR presents some opportunities for business, with some companies using it as a way to make transparency a virtue, gain their users' trust and build a culture of compliance.
"What we're also seeing in practice", he continued, "is people using these laws to cause problems to businesses to gain leverage in litigation or to bring a complaint". The big tech players may have the legal firepower to head off such challenges, but younger innovative business trying new things in new areas such as the 'Internet of Things' could be badly hit by GDPR.
Hurst and Hammon's fellow panellist, technology and privacy law associate director, Eleanor Locke, elaborated:
"GDPR is difficult to interpret and understand and that is really going to hit those small, innovative start-ups much harder, particularly where the GDPR is actually very difficult to comply with when you're looking at new technologies such as artificial intelligence (AI). You may have to engage with regulators and it's going to take time to get comfortable with what you're doing in terms of that technology and small start-up businesses aren't necessarily going to have the resources within Europe to do that. So, I think the pace of change with those technologies in terms of getting products to market may be slower."
Hurst noted that GDPR was emblematic of the "constant tension between law and regulation", with young businesses in a broad sense often trying to "get out there to innovate quickly enough to try new things" before regulation puts its foot down.
There are plenty of examples of Silicon Valley businesses that have expanded fast internationally and achieved a very high valuation by being willing to disrupt and take some risks on regulation. Once businesses have achieved that growth and have deep pockets it's much easier to conform to a regulatory challenge. On the other hand, businesses suffer when they "start off terrified of regulation, are not prepared to stretch the boundaries of the law and try new things — they get so bogged down that they won't make money and get the investment," says Hurst.
Pace of change
But in heavily regulated sectors like finance it is not easy to move so quickly. Fintech start-ups face barriers to entry such as regulatory obligations, capital requirements and compliance hurdles that make it impossible for them to become banks overnight.
On top of that, because they are handling people's money, they need to win trust. "They're competing against the big high street banks with their beautiful buildings that have been around for decades and decades," says Hurst. They display a "we're reliable, we're compliant, you can trust us" grandeur about them — despite some damage to their reputations from the 2008 financial crisis.
In this sense some of the up and coming players remain stuck in Wild West territory. "They've got some amazing technologies but they've got to get over that compliance hurdle to demonstrate to the regulator and to their customers, partners and investors that they're in the compliant category," Hurst adds.
There is good reason for this regulation. Casting a shadow over innovation is the threat of cyber criminals, with fear that the more we collect data through internet-enabled applications the more opportunities are created for data theft, scams and malware. "There's a massive arms race — the cyber criminals are every bit as sophisticated if not more so than the armies of cyber firms trying to combat them — so we're always trying to keep up with the criminals," says Hurst.
Lawyers of tomorrow should keep all this in mind as they build their commercial awareness. "Be tech-curious, digitally literate and take an interest in this stuff," urged Hammon as the session drew to a close. "Read read read, watch those YouTube videos and learn about it as much as you can, with an eye to where the world is going."
About Legal Cheek Careers posts.