All you need to know about this alternative route to qualification as a solicitor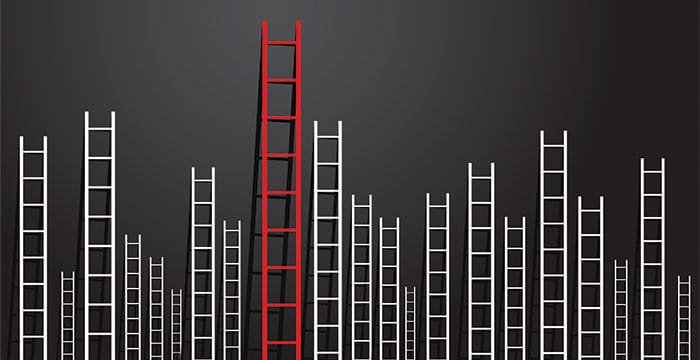 What are solicitor apprenticeships and who are they aimed at?
Solicitor apprenticeships are a great option for school age leavers who want to pursue a legal career, but don't wish to undertake the conventional university route to qualification. Apprentices who take this route therefore qualify as solicitors within the same time period, earn while they learn, and progress in their career without university debt.
The current UK solicitor apprenticeship scheme has been available to school leavers since 2015 as part of the government's 'trailblazer' programme. The number of legal apprenticeships has been steadily on the increase since April 2017 when the government introduced the apprenticeship levy, requiring all businesses with a turnover of more than £3 million a year to spend a percentage of their profits on training apprentices.
What do solicitor apprenticeships involve?
A solicitor apprenticeship is a Level 7 apprenticeship programme which typically takes six years to complete.
The structure of the programme is split between undertaking paid work experience at a law firm, alongside studying part-time to complete the professional qualifications required to become a solicitor. Therefore, by the end of the six-year period, apprentices will have completed their period of recognised training, attained a law degree, and passed all of their professional qualifications. In turn, they will qualify as a solicitor in England and Wales and be admitted by the Solicitors Regulation Authority (SRA).
This route allows apprentices to gain hands-on experience, improve their commercial awareness and gain confidence in an office environment. Typically, apprentices work around 30 hours per week, under the supervision of a mentor. Solicitor apprentices can therefore expect to spend 20% of their time (one day a week) studying towards their law degree and the other 80% of their time undertaking practical work experience at the firm.
What do solicitor apprenticeships pay?
All apprentices are entitled to the National Minimum Wage (NMW), which as of April 2021, stands at £4.15 per hour for apprentices under 19 and those over 19 in their first year. However, many law firms choose to pay more than this on their individual apprenticeship programmes.
The route to qualification
As determined by the SRA, in order to qualify as a solicitor in England and Wales, a candidate must:
1) Have a law degree or equivalent
2) Pass the Law Conversion Course and/or Legal Practice Course, or both stages of the Solicitors Qualifying Exam
3) Completed two years qualifying work experience
The full qualification route to becoming a Level 7 solicitor apprentice takes a total of six years, during which apprentices will complete all three of the above regulatory requirements.
However, after two or three years, apprentices qualify as Level 3 paralegal apprentices. From here, apprentices may choose to remain as paralegal apprentices, or continue with their training for another three or four years to become qualified solicitor apprentices.
| | | | |
| --- | --- | --- | --- |
| Stage | Time (in total) | Route | What it involves |
| Level 3 paralegal apprenticeship | 2/3 years | Remain as a Level 3 paralegal apprentice, or continue in training to become a Level 7 solicitor apprentice | The paralegal apprenticeship involves four days a week of work-based learning, and one day a week of university LLB law degree study. Paralegal apprentices that choose to continue down the solicitor apprenticeship route will complete their LLB (Hons) degree after four years of part-time study. |
| Level 7 paralegal apprenticeship | 5/6 years | Qualify as a solicitor in England and Wales | Apprentices that decide to continue down the solicitor apprenticeship route will gain an LLB law degree after four years of part-time study. After this period, apprentices then spend two years completing the SQE. Once the apprenticeship is completed and the apprentice has passed the SQE assessments, they qualify as a solicitor. |
Assessments
Each apprenticeship has its own standard for assessing the skill, knowledge and behaviour required to qualify as a solicitor. An assessment plan sets out how the apprentice will be assessed during and at the end of the apprenticeship.
The solicitor apprenticeship standard is based on the statement of solicitor competence. As of 2017, in order to complete a solicitor's apprenticeship, apprentices must pass a two-stage examination, the SQE, the second part of which must be completed in the last six months of the apprenticeship.
You can find further information about solicitor apprenticeships on the SRA's website.
How do I get a solicitor apprenticeship?
Entry requirements
Individual law firms tend to set their own entry requirements; however, the government's recommended minimum requirements are generally:
1) At least five GCSEs, including mathematics and English at grade A* to C. Note some law firms expect seven GCSEs at grade B or above.
2) Three A-Levels (or equivalent) at grade C minimum. Note some firms now require a minimum of AAB at A-Level, although this is still lower than the typical entry requirements for LLB law degrees which is AAA.
Other apprenticeships
Chartered legal executive apprenticeships
Solicitor apprenticeships are not to be confused with chartered legal executive apprenticeships. Chartered legal executive apprenticeships were first introduced as a non-conventional route to qualification for legal secretaries who sought to qualify as solicitors within a certain specialism. Apprentices completing the chartered legal executive apprenticeship are required to complete the Level 3 and Level 6 CILEX professional qualifications as part of the apprenticeship.
Graduate solicitors apprenticeships
Solicitors apprenticeships should also be distinguished from graduate solicitor apprenticeships. The latter are aimed at graduates from law or non-law backgrounds who are seeking to undertake their vocational training on a part time basis whilst also working at the firm via the SQE route.