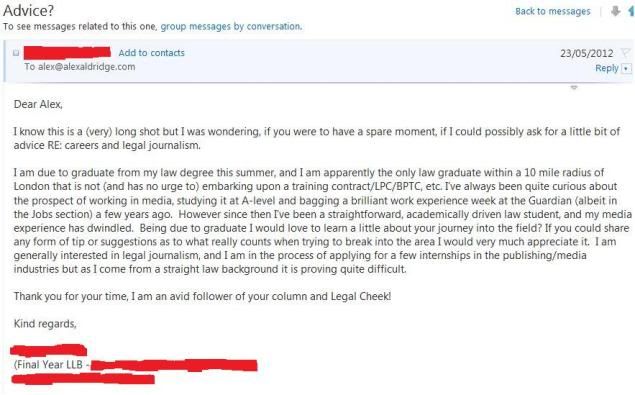 Hi,
Thanks for getting in touch.
As someone with a law degree you're actually in a good position to get into a media sector that is undergoing even more change than the legal profession at the moment.
With many print magazines/newspapers struggling, and professional blogs operating on very lean business models, journalists with some degree of specialist knowledge are increasingly in demand – essentially because they offer editors better value for money.
I got into journalism after I wrote an article about the 12 dinners you have to eat during the BPTC for The Times. Then, after another couple of articles, I got a slot writing a column called 'The Path to Pupillage' for the pre-paywall Times Online law section.
Meanwhile, I bagged a job as a researcher and writer at Chambers and Partners, the legal directory publishers – a great place to start out as a legal hack. My colleagues there included Emily Jupp, now a journalist at The Independent (and Legal Cheek's associate editor) and Emma Sadowski, City editor of the monthly magazine Legal Business. The FT's legal correspondent, Caroline Binham, also began her career at Chambers & Partners, as did Joshua Freedman, The Lawyer's rising star feature writer.
After a while, The Times gave me paid work doing a weekly interview series, and I also started getting regular feature commissions from Legal Week, so I quit Chambers & Partners to work freelance.
A year later, a job as Legal Week's features editor came up, and to my amazement they offered it to me. Later, I became associate editor, before I got the slot writing for The Guardian and quit to go freelance again – at which point I launched Legal Cheek.
What I'd say is start writing – for Legal Cheek if you fancy (we're always looking for good up-and-coming writers) – and things will happen for you. You'll get knockbacks, too – I got innumerable articles spiked when I started out and The Lawyer turned me down for a job at one point while I was at Chambers & Partners – but if you keep going, the opportunities will keep coming up.
One of Legal Cheek's original writers, LPC graduate Krish Nair, is proof that this principle applies in a recession too. After starting his 'Training Contract Hawk' blog, Krish wrote pieces for Legal Cheek, The Guardian and Lawyer2B – on the back of which he landed a position writing for the in-house blog of law firm Mulberry Finch. He'd now be in a good position to get a full-time staff journo position on a legal mag or website.
The alternative is to do a journalism course. The MAs at City Uni and Goldsmiths are very favourably looked upon by national newspapers, which do a lot of their recruiting from them. The downside is the cost. You'll need a portfolio of articles to get a place on them, so either way, my immediate advice is to write, write, write for anywhere that'll publish your work.
Alex
Want some advice on legal education or training contract/pupillage applications? Email alex@legalcheek.com.