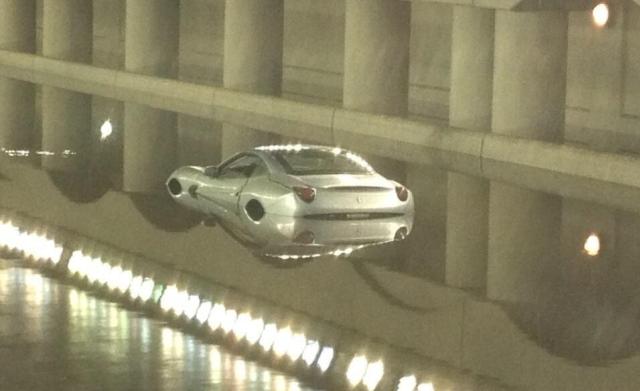 Earlier this week photos of a Ferrari submerged in a flooded Toronto underpass went viral on Twitter and Facebook…
Can't believe someone dumped a Ferrari in the TO storm #drenchedTO #dibs pic.twitter.com/8x6PnQ8mFB

— Genevieve (@GenZingg) July 9, 2013
Yesterday it emerged that said Ferrari belongs to a lawyer — who abandoned it in order to get to a hearing on time.
Top employment lawyer Howard Levitt was driving through heavy rain to the airport — from where he was due to fly to a hearing in Ottawa — when his 2010 Ferrari California entered a large puddle in Toronto's Simcoe underpass. While other cars passed through fine, the extremely low-riding Ferrari — price: £129,000 — got stuck.
With the water rising fast, thanks not just to the rain but a burst sewage pipe in the underpass, Levitt was quickly forced to abandon ship. Opening the door, he let the sludgy water flow in — and then in a demonstration of great professional commitment, collected his bags from the boot and took a taxi to the airport (having been assured by police that his pride and joy would be towed away by a breakdown truck as soon as one became available).
There, Levitt discovered that all flights had been cancelled due to the weather. So he took a taxi to Toronto's other airport and managed to get on the last plane of the day to Ottawa.
The next morning, Levitt won the motion in his hearing.
His appraisal of the situation, as reported by US legal blog Above the Law, evidences an impressive ability to prioritise.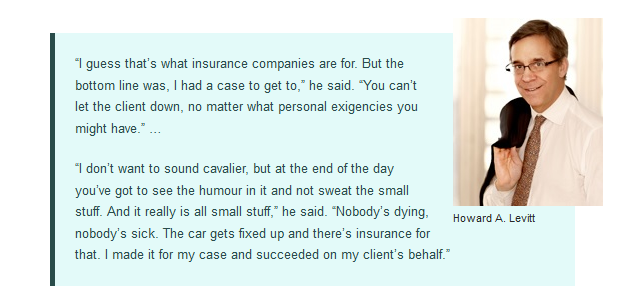 As for the Ferrari, its future remains uncertain. Not that Levitt, who leads the employment practice at Canadian firm Goldman Sloan Nash and Haber, is sweating such small stuff. "If I can't get it repaired, I'll get another one," he adds.