Cambridge law student Sebastian Salek (pictured above left with Legal Cheek's Tom Webb and Kevin Poulter) caused a storm in June after his blog post about his law exam alerted the national press to this memorably X-rated problem question…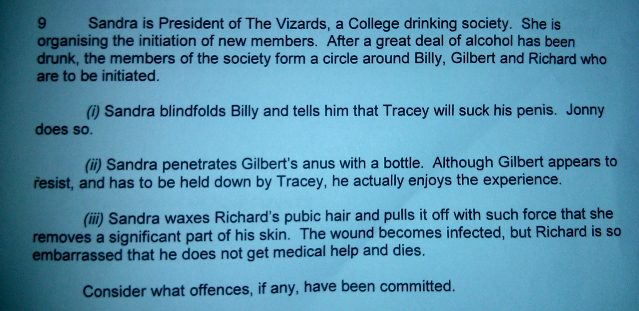 The blog followed this article which Salek wrote for The Independent in January in which he poked fun at law firm graduate recruiters.
Joining us on this week's Legal Cheek podcast, Salek — who recently completed an internship with Reuters — admits his courting of controversy has been part of a strategy to help him land a foothold in journalism.
But in such an uncertain graduate employment environment, where it's wise to keep as many options open as possible, has Salek blown his chances of landing a training contract or pupillage if one day he opts to pursue his plan B of becoming a lawyer?
Legal Cheek podcast host Kevin Poulter, who by day is a senior associate at Bircham Dyson Bell, thinks not — although he reckons that Salek may have some explaining to do to potential legal employers about his penchant for controversy.
"Discretion and confidentiality are important to law firms," says Poulter. "But at the same time, it can be very hard to stand out in a congested graduate job market, so it helps to do things to pique graduate recruiters' interest. However, expect to be asked to explain anything controversial at interview."
Listen to duo's back-and-forth, accompanied by occasional interventions from Legal Cheek editorial pair Alex Aldridge and Tom Webb, in the podcast below.