Over the summer US law graduate Brian Zulberti achieved international fame after posting a bizarre, semi-naked plea on Facebook for a firm to hire him. Unsurprisingly, he wasn't hired.
Since then, Zulberti has put his graduate legal job hunt on hold and turned his attention to launching a campaign against "the tidal wave of social media firings that is unjustly obliterating competent and driven employees from coast to coast"…
The thinking behind the campaign is explained in an email which Zulberti recently sent to all the lawyers in the state of Delaware, where he is based. The email — courtesy of US legal website Above the Law — is below: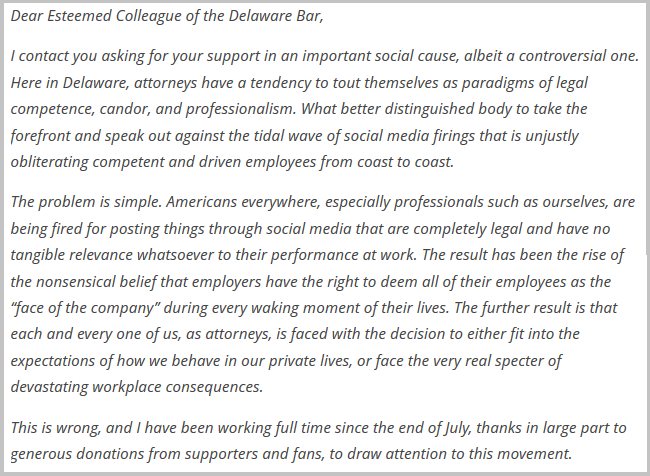 In order to prove his commitment to said movement, Zulberti has placed a host of naked pictures of himself on his website, including a shot of his penis.
In the latter part of his email, Zulberti explains the thinking behind posting the photos in more detail.

Perhaps unsurprisingly, the legal hopeful's reasoning has failed to convince many bloggers.
Getting some sleep. I have a lot of nasty blogs to respond to tomorrow.

— Brian Zulberti (@BrianZulberti) October 22, 2013
Further information about Zulberti's campaign, entitled 'Professionals Taking Our Social Lives Back!', can be found in this video.