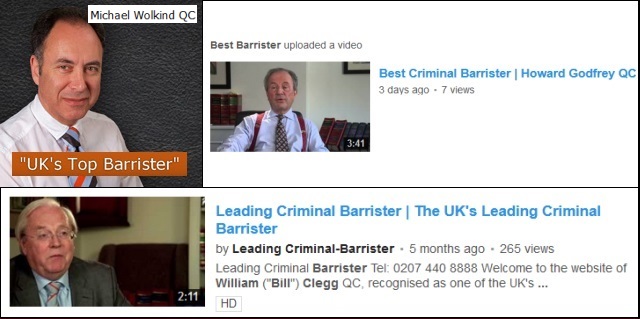 How do you compete when your chambers colleague bills himself as the "UK's Top Barrister"?
You label yourself, respectively, as "Best Barrister" and "The UK's Leading Criminal Barrister", of course, and embark on YouTube campaigns to drive home your message…
Well, that's what 2 Bedford Row duo Howard Godfrey QC and William Clegg QC have done in response to fellow tenant Michael Wolkind QC's audacious "Top Barrister" auto-branding.
But who is the finest? Judge yourself from the series of YouTube videos which Godfrey uploaded earlier this week. We have embedded one below, alongside a recent marketing effort by Clegg and a clip of Wolkind in business-development action.
Best Barrister
Leading Barrister
Top Barrister