Exclusive: Pair seek to do good with their unlikely friendship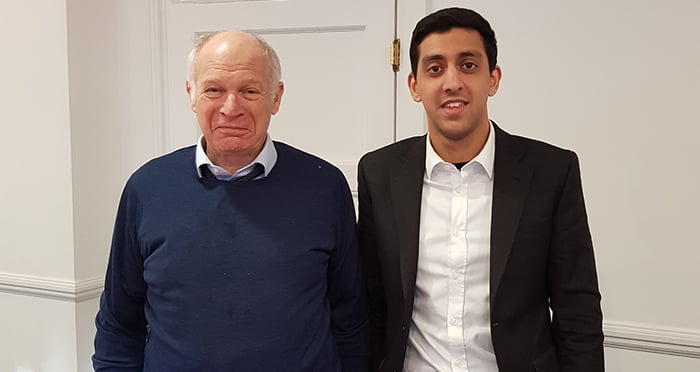 Lord Neuberger is touring some of the country's state schools and non-Russell Group universities with a University of Exeter law graduate he met while he was still the president of the Supreme Court.
Newly-retired Neuberger is staying true to his own recommendations, first revealed to the public at a Legal Cheek event in 2015. Then, he called on his fellow judges to help promote diversity by visiting non-Russell Group universities to encourage students to apply for training contracts and pupillages. Neuberger, now an arbitrator at One Essex Court, will be doing just that on 29 and 30 January, visiting both the University of Bradford and Aston University, plus two nearby comprehensive schools.
Neuberger told Legal Cheek:
"I have always thought that it was important for judges and senior lawyers to visit schools and universities to explain what they do and why they do it. It helps pupils and students understand how our constitution works and why the rule of law is so important. It also gives them information about a career in the law. And it makes the law a little less remote. I could only manage a few such visits when I was a judge. Although I have a number of commitments, I am now no longer quite as busy as I was, and can therefore make rather more such visits."
While the aim of the whistle-stop tour is to inspire, the schools and universities will be approached with different strategies. The schoolchildren, who are from Year 10 to sixth form, will hear Neuberger discuss more light-hearted themes like why judges wear funny clothes to court and what it is like meeting the Queen. Over at Bradford and Aston, the undergraduates can expect more high-level discussions on the legal profession and being a lawyer.
But Neuberger won't be heading out alone. He'll be joined on his two-day trip by Ammar Khan, an Exeter law graduate and future CMS trainee solicitor who Neuberger has remained in contact with after the pair met during a work experience placement. Khan even revealed to Legal Cheek he attended the 70-year-old's retirement party and has been to his house.
Khan, himself state school-educated, is passionate about diversity and widening participation. He hopes the visits will dispel the myth that lawyers are unapproachable, something he admits he believed to be the case when he was younger. He tells Legal Cheek:
"I feel the north of England — or rather everywhere outside of London — is neglected in the upper echelons of the legal profession. Lord Neuberger's visits to these areas will help inspire students and educate them about the legal profession and the judiciary."
Though Khan concedes Neuberger will make no personal gain from the visits and is only taking part "because he cares", Legal Cheek hopes the trip will prove enjoyable for retired Neuberger and Khan, who is waiting to start his City training contract later in the year. And, we've been informed Khan has a 16-25 Railcard and Neuberger a Senior Railcard, so at least they'll save on train fares.
This social mobility news comes in the same week ITV launched a new diversity scheme, its aim being to broaden access to the legal and accountancy professions. The Social Mobility Business Partnership is supported by firms including Clifford Chance and Slaughter and May, and counts money expert Martin Lewis as one of its patrons.